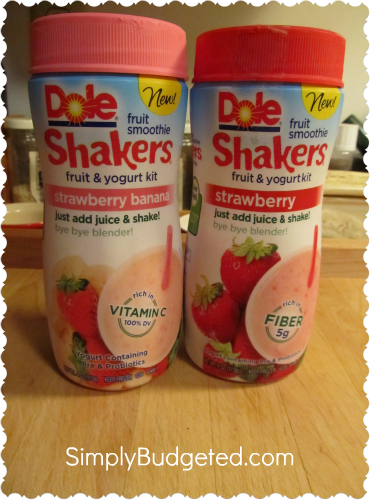 DOLE Fruit Smoothie Shakers contain …
All Natural Fruit and Yogurt
Pre and Probiotics
Less than 200 Calories
Fiber, Calcium, and Vitamin C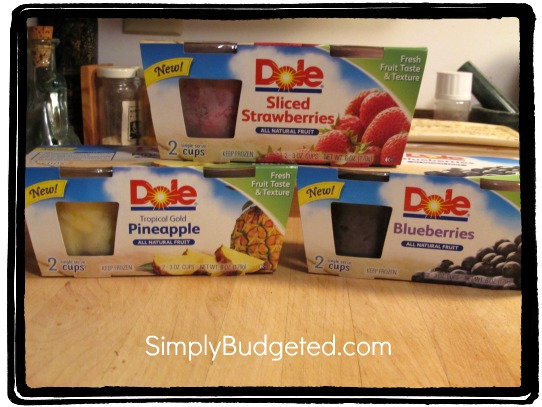 Since strawberries are Little Man's favorite here are the details on the DOLE Strawberry Frozen Fruit Single-serve Cups …
New DOLE Strawberry Frozen Fruit Single-serve Cups, with the Nature Lock guarantee of fresh fruit taste, texture and nutrition, are the convenient and delicious way to enjoy Strawberries wherever and whenever you want.
Each 3oz cup contains a full serving of all-natural unsweetened fruit with no added sugars or preservatives, is rich in antioxidant Vitamin C and only 35 calories.
Enjoy DOLE Strawberry Frozen Fruit Single-serve Cups at home, in the office or on-the-go. They are a perfect quick snack for the entire family.
Look for strawberry, blueberry, and pineapple varieties in the frozen aisle!
What else was in the gift pack?  A huge beach towel and a great reusable tote bag!
Our Thoughts …
As for the shakers … I have had the Strawberry Banana so far and it was super yummy. I put Orange Juice in it. I will say I had them in our deep freezer since that is where there was room and it was really frozen! It took some major shaking to get that solid chunk broken up into the tiny piece it used to be. Once Brian got some muscle into the shaking, it worked great. I will make room in the regular freezer for these in the future. These are great for mornings on the go and the best part is not cleaning the darn blender (I seriously hate cleaning the blender but I love smoothies for breakfast!)
The fruit … it is fruit. I feel bad for not having much to say but it is yummy fruit. The best part of the fruit is the portion sizes for the kids. I can give them one cup and when it empty they are done and not asking me for more. These too would be great for when we are in a hurry and honestly when I just want to be lazy and have less mess (no dirty bowls or cutting boards!)
We are excited to giveaway the same gift pack (includes free product coupons, not the actual product) we received to one of our readers!
a Rafflecopter giveaway