We had the opportunity last year to work with DentalPlans.com last year and excited to share the HUGE DentalPlans.com Giveaway that is going on right now. Now this giveaway isn't here on Simply Budgeted, it is over on DentalPlan.com's Facebook but we have all of the details for you!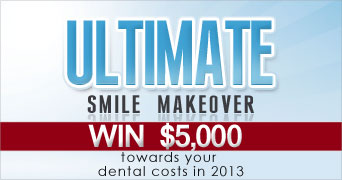 PRIZE: $5,000 towards a smile makeover in 2013
HOW TO ENTER:
 

Make sure you're a fan of 

DentalPlans.com on Facebook

.

From Monday, Jan. 21, through Monday, April 1, submit a 400-word (or less) story telling us why you need a smile makeover in 2013 with our entry form on Facebook.

Each week during the contest, our Facebook fans will vote for the most deserving story to win a Discount Dental Plan from DentalPlans.com each week, for a total of 10 plans.

At the end of the "Ultimate Smile Makeover Contest," a panel of judges at DentalPlans.com will award one grand prize winner with $5,000 towards his or her dental costs in 2013.
Dental costs can be a budget breaker but DentalPlans.com Ulitmate Smile Makeover Contest can help. Did you know that you can face the following cost for dental care?
up to $1200 for a root canal

 A set of  orthodontic braces to the tune of $3000

just one dental veneer at $1,100 
I know those expense would really impact our budget. I also know that from
my parents' experience
last year that DentalPlans.com can really help with dental care. The savings they have found have let them not only take better care of their teeth but also spend their budget in areas besides dental care! That is such a life changing budget aspect for a family or couple or even individual!
So are you ready to go enter the contest? If you enter, leave a comment here so we can spread the word about voting for your entry! We would love to help you win a dental plan and then go for the grand prize of the DentalPlans.com Ultimate Smile Makeover!
Good Luck!!
Disclaimer: This post is part of a series of posts for a campaign supporting DentalPlans.com.