Friday Favorites is another almost weekly feature here at Simply Budgeted. The whole point of this feature is to share some of our favorite finds. Anything is game. Food. Cleaning supplies. Kid stuff. Garden favorites. Recipes. Anything that I really like and want to randomly post about.
Reminder/Disclaimer/Whatever: Everything in Friday Favorites is something that we use and bought on our own.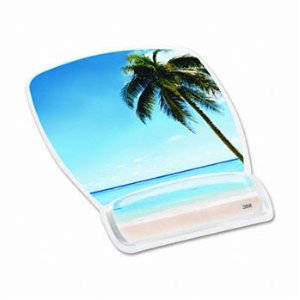 Details …
Beach design
Soothing gel comfort encourages neutral wrist posture
Clear gel is easy to keep clean
Fun design brightens up the workspace
Non-skid base
Our Thoughts …
This is a replacement mouse pad for us. You see we had this mouse pad for years (8 years?) Brian LOVES the gel wrist rest. It recently broke so I decided to try to find him a new one. I was so excited to find this almost exact replacement for him. It has been update a little but the old one had a beach picture too!
Looking for a new mouse pad? You can find this one on Amazon …
Do you have a favorite mouse pad? Do you use a gel wrist rest? Leave us a comment and let us know!