I am excited to post my first result of monthly challenge at The Daring Bakers! What was this month's challenge?
The Daring Bakers go retro this month! Thanks to one of our very talented non-blogging members, Sarah, the Daring Bakers were challenged to make Croissants using a recipe from the Queen of French Cooking, none other than Julia Child!
Specifically, the challenge was to make a batch of croissants according to the croissant recipe from Mastering the Art of French Cooking, Volume Two by Julia Child and Simone Beck.
This was the Note at the beginning of the challenge …
Note: The most difficult part of making croissants is that they take a veeeeery long time. About 12 hours total, with resting and rising periods. However, at certain points you can leave it overnight. I have done the recipe twice – once over three days, and once in 12 hours. Both worked out well.
And that was the moment I freaked out. Croissants?! You see I gave up on croissants back in about 1997. That is the year I went to Spain with a group from my High School. Every morning for breakfast, we had croissants. I came home and told my mom that I would be happy to never see a croissant again! Seriously, I told her that. Now I had to make them. I did fall in love with croissants again one day when I went into a bakery and saw chocolate croissants. I mean it is chocolate, that has to make it yummy, right?! It did. I have a serious weak point for chocolate croissants now.
Well I can say I now made croissants. It took me two days to get these done because of the timing involved in it. I messed up the folding on one of the many folding steps because my dough was the wrong size at the end of that step. Brian is never going to let me live that one down but whatever.
Here is the full batch of a dozen croissants (half were plain and half were chocolate filled … the nicer shaped ones have chocolate) …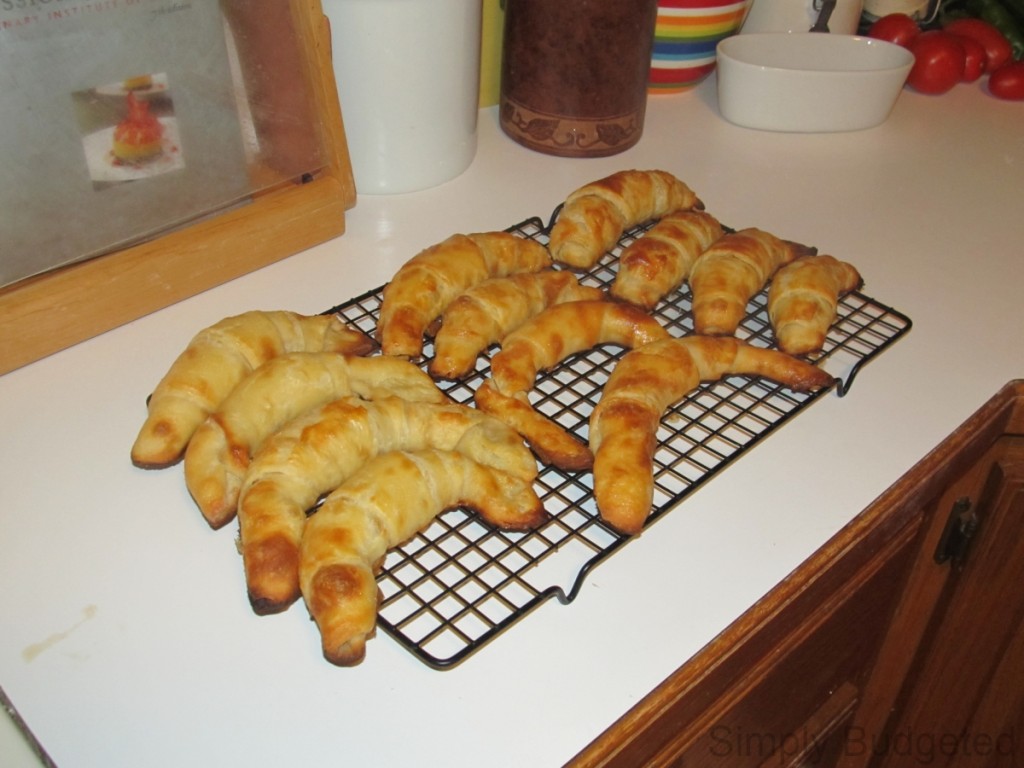 I have a theory that the chocolate ones rolled nicer because they had something to roll around to give them shape. The chocolate ones were definately my favorite but I can now say I have made both plain croissants and chocolate croissants from scratch! We let the kids have croissants for breakfast the morning after I made them. They were really annoyed there were no chocolate ones left the second morning after I made them. Those crazy kids are mine when it comes to chocolate!!

I think Sophie would eat a chocolate croissant every morning for breakfast if I had one for her!
Just to prove the yummy factor of the chocolate ones here is a cut one close up!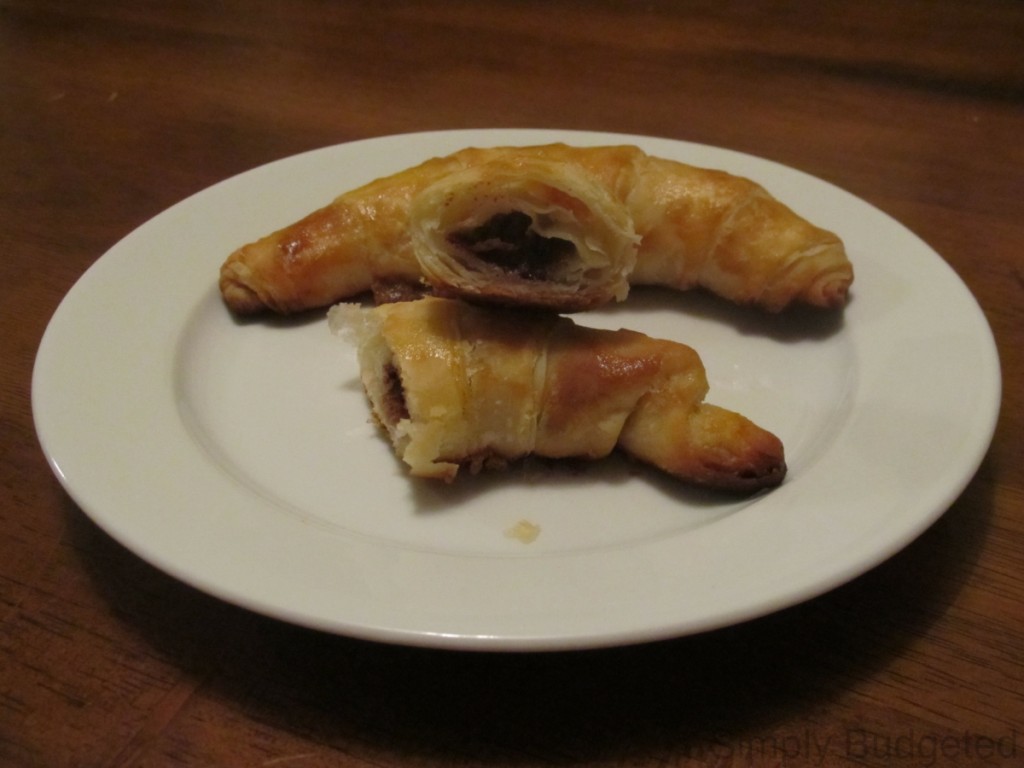 Darn it, now I want a chocolate croissant. I can tell you that next time I think I am going to try one of the cheat puff pastry recipes to make these but you know what, I won't feel guilty about that because I have made them the real from scratch way and have pictures to prove it!

Have you ever made croissants? Leave me a comment and let me know what you think about my croissants.