NOTE: I participated in a campaign on behalf of Mom Central Consulting for MetLife. I received a promotional item as a thank you for participating.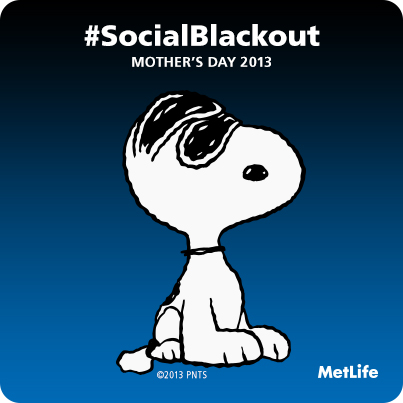 What is the #SocialBlackout on Sunday, May 12th?
MetLife has created the #SocialBlackout movement, which challenges everyone to log off of social media on Mother's Day (May 12th) and give Mom the time and attention she deserves! Be sure to check out MetLife Facebook page for more information!
With Mother's Day coming up are you ready to give mom all of the attention she deserves? Ever find yourself checking out Facebook or Instagram while someone is chatting with you. Guilty here!
If our kids see a cell phone at the dining room table, they call us on it. They tend to yell "Hey! No phones at the table!" Brian and I have both been caught several times with our phone at the table. You would think we would learn but apparently we need our kids to keep us accountable in this area! I will at this rule don't just apply to our family. We had extended family over for Christmas this past year and I admit that I laughed when the girls told their uncle that he wasn't allow to use his phone at the table. He chuckled but you know what, he put it away!
So what rules do you have around how much social media time you have? We don't normally give ourselves the same rules we give our kids maybe it was time we did. I know the days that my phone is lost in the bottom of my purse, I get way more done. I don't even miss checking Facebook, Instagram, or even Twitter those days.
On Sunday, Mother's Day we taking the challenge to join in the #SocialBlackout. I am not sure that we succeed as I am sure at some we will want to share the day of celebration with family and friends. I don't know what the family has up their sleeves yet but I have seen a lot cards floating around here. Maybe the house will be decorated in cards for Mother's Day? I promise not to take a picture of each though and hopefully wait until Monday to share the stack.
So are you ready to join? Join the event on Facebook!