We are excited to bring another guest post to you today from Andrea Woroch!
Can you imagine life without technology? People who have trouble navigating would be lost without GPS devices. The busy-and-important would feel downsized without their smartphones. Even your dishwasher represents a time-saving technology that would be tough to go without.
These modern conveniences come with a price, however, and finding a good deal can be daunting. With a little research and creativity, you can have the gadgets you desire without sabotaging your budget. Read on for eight ways to pay less for electronics.
1. Name Your Own Price
Priceline has enabled travelers to choose their price on flights, hotels and car rentals for years.  Thanks to the Web start-up

Greentoe

, you can now name your own price for electronics, too. It's as simple as signing up, finding your desired gadget and making an offer. Greentoe pitches your offer to dozens of retailers and lets you know when there are bites. This is a great opportunity for big savings on TVs, laptops, digital cameras and more. Don't think you can score something for 75-percent less, however; your offers should be reasonable!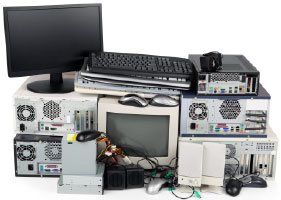 2. Negotiate
Consumer Reports found shoppers who negotiated on electronics saved an average of $82 in 2012. Though big-box retailers like Target and Walmart may not be able to haggle, specialty retailers typically have more wiggle room on higher-priced items since margins are wider. For more on how to negotiate, consult these insider tips shared by an electronic salesman. If you prefer big-box stores, remember Target and Best Buy now price-match Amazon, making it easy to leave the store with the item you want at the price you want.
3. Compare and Track Prices
The airline industry has used dynamic pricing for years, but these days it's become popular among electronic e-retailers. Websites use sophisticated analytical tools to set prices based on browsing history and purchasing patterns. Ultimately, you could end up paying more by shopping on the wrong day or at the wrong time. Amazon, for instance, fluctuated the price on GE microwave nine times in just one day. Luckily, price-comparison sites abound to help consumers combat dynamic pricing. InkjetWilly.com is a great source for cheap printer ink, for example, while CamelCamelCamel.com alerts you when a desired item on Amazon drops in price.
4. Opt for Second Best
Electronics have one of the fastest depreciation values of any product on the retail market. Constant updates, new features and enhanced design are to blame, but often times the difference between devices is minimal. If you're shopping for a new toy but find yourself on a tight budget, opt for an older model. Just be sure the newer model doesn't address significant defects in the device you're looking at.  
5. Save on Extras
When it comes to scoring sweet deals on TVs, cameras and smartphones, there are some hidden costs to consider. Products necessary for the function of your gadget can really eat into your budget and ultimately cause the original investment to skyrocket. HDMI cables, for example, represent one of the biggest markups of any item in an electronics store — sometimes exceeding 100 percent. I found a Dynex 6′ HDMI Cable at Best Buy for $19.99 while the exact same product was listed through Amazon for just $2.54.
6. Consider Refurbished
The term "refurbished" turns off some shoppers who assume something is wrong with the item. However, that's not the case; many shoppers buy on impulse, then open and package and realize the product isn't something they need or want. Upon returning an open package, the retailer must sell the item as previously owned — or refurbished — at a discount. This means you could score a great price on something that's never been used. For instance, you can cut $250 off the cost for a 11.6-inch Macbook which originally sells for $1,099. The refurbished model is $849 and still comes with a warranty.
7. Sell Your Old Gadgets
Craigslist and eBay are always great places to post your goods for sale. When it comes to outdated electronics, however, you likely won't receive fair bids through these sites. Still, not all is lost when it comes to old cell phones or broken iPods. Sites like ExchangeMyPhone.com will buy your old phones to be fixed or used for spare parts. The dollar amount you receive all depends on the demand, but a few bucks is better than nothing. RapidRepair.com is another website that buys old Apple products like iPods and iPhones, even offering money for devices with cracked screens!
8. Keep the Package Sealed
Retailers are getting more strict with their return policies as they relate to electronic purchases. If you received something as a gift or aren't sure if you want to keep it, don't open the box! You could wind up paying restocking fees or may get stuck with it.

Andrea Woroch is a consumer and money-saving expert for Kinoli Inc. As a nationally recognized media source, Andrea has been featured among top news outlets such as 
Good Morning America, NBC's Today, MSNBC, New York Times, Kiplinger Personal Finance, CNNMoney
 and many more.