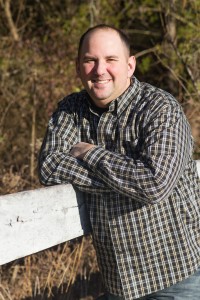 About Brian
I am an Army veteran, work at home dad/professional photographer, and home cook. Sometimes if Beth gets overwhelmed, I will even do a load of laundry! ::gasp!:: I have degrees in Finance (see the budgeting come into play?!) and Education and am licensed to teach high school social studies here in Virginia. My favorite things to do when not breaking up fights in the living room are reading, playing "silly games" (Beth's term) on the computer or xBox 360, trying a new recipe in the kitchen, and doing projects in the yard or around the house. If I get a new power tool to complete a task, so much the better! Brian also writes and take pictures for the Greene County Record newspaper and Charlottesville Wine & Country and Charlottesville Family magazines. He is also the co-owner of Sports Stories Photography. One day I hope to be at the front of a classroom but the lack of teaching jobs in this area is making sure I know my place right now is here at home and behind the camera!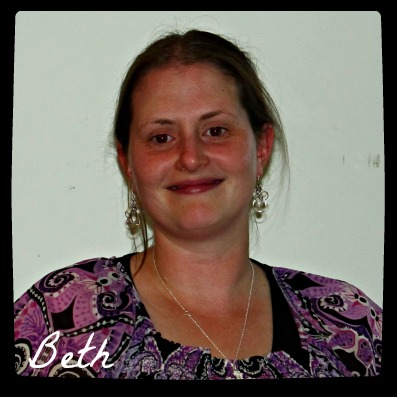 About Beth
I work outside the home full time supposedly using my degree in Computer Engineering and Masters in Education.  Yet I don't code nor do I build circuits (both are a good thing!) I love crafts and reading but never have enough time for either (is there ever really enough time?). I also enjoy fussing in my flower beds but it is full of weeds now too. If I am not reading or in the garden, I am probably in the kitchen baking. I don't like to cook but I sure do like to bake! Sometimes I can get the kids involved in the baking, but they are much better at eating the the treats than helping to make them! To top it all off, I am the girls Brownie/Junior Girl Scout leader and am a sucker for anything Girl Scouts or STEM!
About Us
We have been together as a couple since 1999 and eloped in Clarksville, TN (near Ft. Campbell, KY) in 2003 prior to Brian deploying to Iraq. We started our family in August of 2006. If we can't do activities as a family, they generally aren't on our list of things to do. We get a kick out of playing outside in the yard and we teach our kids through everyday activities and by living our lives well. We have had our budget and debt struggles along the way but have learned to live on a pretty straight forward budget. We find that most people think that living on a budget is a negative thing and not something that everyone can do. We have found a few tips and tricks over the years that help us get by. Hopefully they can help you, too!
Our Family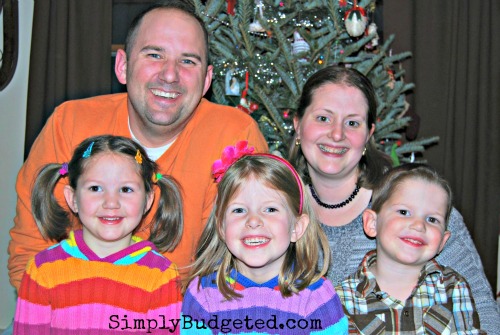 Taken December 2012.
Our Kids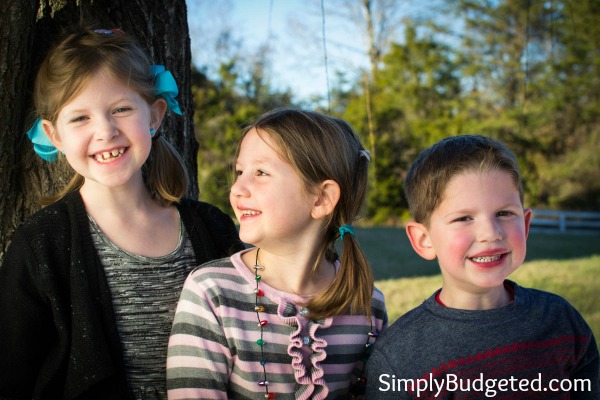 Taken December 2014.
Our oldest, Grace, is 10 and in 5th grade. She is very into wanting to learn everything and loves coloring, reading, and hiding from her sister.
Our middle child, Sophie, is 8 years old. She is our December baby. She is in 3rd grade and loves to make up her own stories! She is also our little runner … watch out track team! The girls are both in Girl Scouts!
Our little dude, Matthew, is 7 and is in 2nd grade. He is a monster … a cookie monster to be exact.  His favorite foods besides cookies are hot dogs and pizza! Matthew loves still everything dinosaurs and is a math wiz! He plays tackle football and baseball!
Simply Budgeted's History
If you really want to know why Beth started this blog check out her first post here!
Brian joined forces with Beth when the site changed over from Simply Living on a Budget to Simply Budgeted in July 2011. We haven't stopped growing since that time. The addition of Brian's time and talents in the kitchen have added content and another perspective to Simply Budgeted that makes it even better!
Thanks for getting to know us!
 Updated August 29, 2016