When talking about your budget it is important to remember that there three pieces to your budget. An easy concept for thinking about this is the past, present, and future of your spending … or a budget pie. So in budgeting terms that would be what you already spent (past), what you are spending (present), and what you will spend (future). Simple enough, right?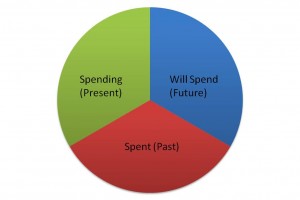 So what does that really mean when it comes to your budget? You can think of your past as what you already committed funds to so your mortgage/rent, car payment, student loans, credit card debt … or in other words you already signed on the dotted line to pay someone for something. The Past.
Now let's skip ahead to the future which is your saving . This is where you need to not only think about your emergency fund and your retirement but you think ahead and save for the holidays, your vacation, your bi-annual insurance bill. These are upcoming commitments that you won't be able to pay for when they hit you over the head but you can spread it out and save for them because you already know they are coming!
Why did I skip the present? Because you should really think about the present last in your budget pie. This is where you probably have the most room to save money and push it to the other pieces of your budget pie. The present is what you need to spend right this minute to get through your daily routine and all of your extras. This category is your groceries, gas for your car/transportation costs, and clothes. Your extras are eating out, the dessert that calls your name as you walk through the grocery store, that fancy purse that your girlfriend just bought and now you must have too … anything that isn't a monthly expense but you spend money on right now is your present spending!  Some questions to ask yourself when thinking about your extras … Do you need it? Do you have money for it? Why are you buying this? If you take an extra second to think about what you buy, you might find yourself putting items back on the shelf at the store or not finishing that online checkout. Think about it.
Does the budget pie have to be equal like that picture? No way! Ours sure isn't. Our budget pie changes every month but our challenge is to stay in that pie. We don't want to borrow outside of that pie to get something that is an extra. Staying in that budget pie also makes sure that we evaluate what is in piece of that pie. Over the next couple of months, my budget posts will go into more detail on each area of the budget pie.
For this month, your challenge is to figure out what is your budget pie shell. Or in other words, how much money do you have coming in each month? This is what your pie is made of and you need to fit your three pieces of pie in that shell. Up for the challenge? Let us know by leaving a comment on if you are able to figure out what your budge pie shell consists of for your family. Have a question or a comment? Leave those too and we will do our best to answer them!
Want more detail? Check out the detailed posts about The Past, The Future, and The Present of The Budget Pie!