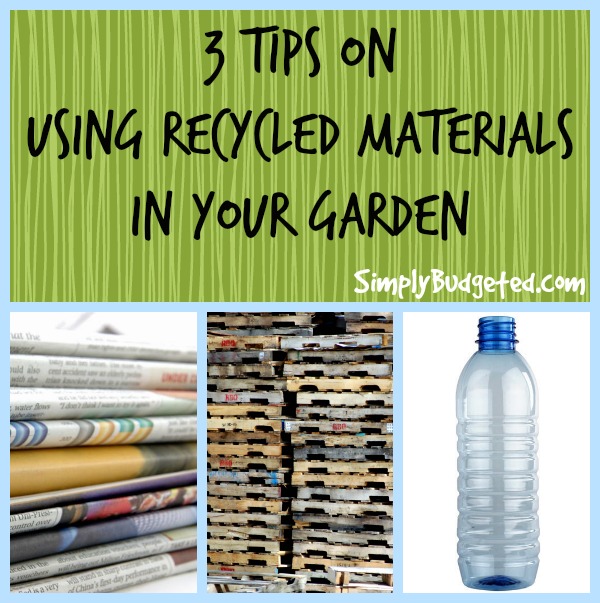 A major goal of many people when gardening is becoming a little more green. What better way to accomplish this (and creating more sustainability) than to use recycled and reused materials in your garden? Here are some fantastic uses for old things to make your garden functional and more eco (and wallet) friendly.
Keep weeds out
Instead of buying weed blocker try to use old newspapers (which will break down into compost) or old lumber tarps (generally obtained for free at lumber yards) to place in your garden to block weeds from popping up. It will be a great use of old materials, plus you get a benefit from it, too. In some beds, like around trees and bushes, you can use old, dried out pine straw or leaves that you rake up from your yard. It blocks weeds from getting the light they need to grow.
Build a fence and pathway
Old wooden pallets found behind hardware stores, grocery stores, and retail places can easily be turned into a fence for gardens. There is also a movement of having the pallets transformed into a container garden that is raised and filled with garden soil. For a pathway, use slats of these pallets to make steps or old, broken pieces of concrete. You can even buy the broken stone pathway pieces for cheap at many hardware stores.
Label and start plants
If you have old soda bottles, drinking cups, or other small containers, start your seeds in them. They are small containers that can be placed in windowsills to get plants growing right. Reuse spent coffee grounds and filters as compost. If you have any old scraps of paper or old paint sticks, write on them and attach them to the containers for plant labels. When the plants are big enough, transplant them into your garden and use the same plant labels. You can even use old scraps of wood from the wooden pallets to help label larger plants with specific information on how to care for the plant.
What items do you recycle by reusing them in your garden? Leave us a comment and let us know!