We are excited to have the opportunity to review a School Value Set labels sent by Bright Star Kids.
Description …
School Labels Value Kit from Bright Star Kids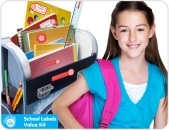 School Labels Value Kit includes a variety of Stick On & Clothing Labels:
10 x Large Stick-on Labels for nappy bags, books, lunch boxes and other big things
30 x Small Stick-on Labels for water bottles and other smaller items
8 pairs x Round Shoe Labels
80 x Tiny Stick-on Labels for crayons, pencils, soothers and other tiny things
30 x Regular Iron On Clothing Tags for all their t-shirts, socks, undies and other clothing
Our Thoughts …
First, these labels came super fast so if school started already don't fret. Order now! 😉  The ordering process was simple. We picked the School Labels Value Kit with our last name only. I just put the last name on there because this includes the iron-ons and then my Sophie doesn't have to get mad a jacket says Grace in it. See I do think, sometimes … just not all of the time! Anyway, the quality and variety of this value kit is great. I have ordered other labels in the past and the problem I have them is they are all the same … stickers. I love the iron-ons. This does mean I will have to get the iron off the top shelf and dust it off (I don't iron) but I can do that so I don't buy five jackets this year!
Do you use labels on your kids items? I think I need to get a set that say's This is Beth's and put it on my ink pens at work. Where else can you use labels in your life? Just as an aside Bright Star Kids isn't all labels … they have great bag tags and wall art. I have been dreaming of where I can put wall decals now!;)
NOTE: We were set a set of labels to support this review. No other compensation was received. All thoughts and opinions are my own.