We were excited to receive a review copy of Mr. Biggs in the City to share this review with you!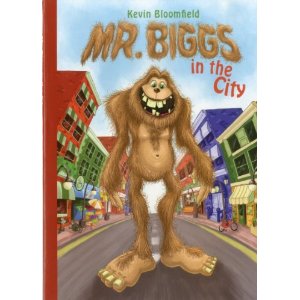 Details …
Mr. Biggs is a very curious Sasquatch who has huge feet and an even bigger heart. He climbs to the top of the tallest tree in all of the forest, and spots a city.
About the Author
Kevin Bloomfield graduated from the Art Institutes International in 2001. He has been inventing and designing children's toys for about 10 years. His toy career has taken him all over the world including China and France where he has had the chance to experience different cultures and interesting food. He currently lives outside of Los Angeles California with his beautiful wife and two young daughters. "I think I hear a dinosaur sleeping. Nope, it's just daddy snoring."
Our Thoughts …
This is a great children's book for your children. The book is funny as it tells about everything Mr. Biggs tries to do the in City. As a parent, you won't feel like you are reading the same book that you read yesterday in that other children's book. The story will get your imagine going and might leave you to ask what else can Mr. Biggs do in the city?
If you are looking for a new author to add your collection, definitely check out Kevin Blomfield's Mr. Biggs in the City!
You can buy this on Amazon right now for $13.22!
NOTE: I was sent a book in support this review. No other compensation was received. All thoughts and opinions expressed in this review are my own.