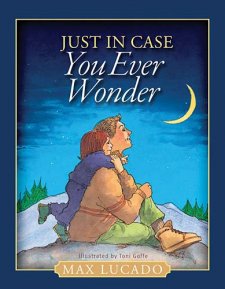 Details …
A timeless children's classic by best-selling author, Max Lucado, that reinforces the love of a parent.
There are certain words that every child longs to hear . . . affirmation of unconditional love, promises of support, and words of encouragement.  Just in Case You Ever Wonder wraps your children in its tender message of love, comfort, and protection, showing them that as they grow and change, you'll always be there for them-whether it's "monsters in the closet" or hard times when other kids are mean. Beloved author, Max Lucado, helps express unconditional love for a child-simply, powerfully, and forever.
My Thoughts …
I read this book tonight to the kids at bedtime. Matthew was not into story time (which is common at 2 years old). Sophie and Grace were really happy to get  a new bedtime book though! I didn't really know what to expect from this book but I really loved it. Sophie is almost four years old and loves to ask "why?" I just kept reading tonight when she would ask and she would smile when she heard the answers to her "why's". I can see this book staying on our bookshelf for awhile. It is a book the kids can grow into for sure. It might be a little above them right now but they get that mommy and daddy love them and so does God. My favorite part was actually the end of the book when it talks about Heaven because we have been talking about Heaven lately so it was nice for the girls to see and hear that mentioned again in another way!
You can buy this book at Amazon
right now for $10.87!
Have you read this book or other children's books by Max Lucado? We love Max Lucado's One Hand, Two Hands book too. Leave us a comment and let us know if you love this book or what your favorite book to say "I Love You" is!
NOTE: I was sent a copy of this book in support this review. No other compensation was received. All thoughts and opinions expressed in this review are my own.