Details …
The Kitchen Counter Cooking School is essentially "What Not to Wear" meets Michael Pollan.   Inspired by a supermarket encounter with a woman loading up on processed foods, Le Cordon Blue graduate Kathleen Flinn decided to use her recent culinary training to help a group of nine culinary novitiates find their inner cook.  These students invited Kathleen into their kitchens where she took inventory of each person's refrigerator, cabinets and eating habits.  After kitchen "makeovers" and a series of basic lessons where they learned to wield knives, trust their taste and improve their food choices, the women found a common missing ingredient–confidence.  In this new book, Flinn follows these women's journeys and includes practical, healthy tips to boost readers' culinary confidence, strategies to get the most from their grocery dollar and simple recipes to get readers cooking.
Our Thoughts …
The Easy Artisan Bread recipe from the book is our favorite from this book. We have almost stopped buying bread from the store by using this recipe. We hope that by next year, we won't be buying sandwich bread any more! We are so happy to make this change. It is a change we have wanted to make but were not sure how to do it so we excited to find a way that isn't killing us in time or costs! How many times can you say a book changed the way you eat and shop?! This book might do that for you. We do want to share one recipe from the book with you so here is …
YEAST PANCAKES
1 pkg. active dry yeast
1/4 cup warm water (110-115 degrees F)
1 3/4 cups milk, scalded then cooled to lukewarm
3 tbsp. brown sugar
1 teaspoon salt
1/8 tsp. ground nutmeg
1 teaspoon vanilla
3 tbsp. oil (or 4 tbsp. Smart Balance margarine)
3 eggs, room temperature
1/2 teaspoon soda
1/2 teaspoon baking power
2 cups sifted all-purpose flour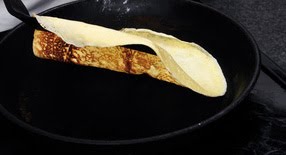 Dissolve yeast in warm water in mixing bowl. Add milk, sugar, salt, and spices. Beat in rest of ingredients with rotary beater until smooth. Cover and let rise in warm place about 1 or more. Batter will be light and bubbly.
Use immediately, or cover and refrigerate overnight. (Do not refrigerate more than 24 hours.) When ready to make pancakes, preheat the griddle, grease lightly, if necessary.
Stir batter and drop from tip of large spoon, or pour from pitcher onto hot griddle. Turn as soon as top turns bubbly. Bake other side until golden brown. Pancakes will be thin.
Makes about two dozen four-inch pancakes
You can buy this at Amazon
right now (it is a great deal!!!) …
We are excited to offer a giveaway for a copy of The Kitchen Counter Cooking School to one of our readers!
Details:
This drawing will end Thursday, November 3rd at 11:59pm EST. The winner will have 48 hours to reply with their address. You must include your email address in the comment form so you can be contacted if you are a winner! You must complete the Mandatory Entry for the additional entries to count. This giveaway is open to US residents only !
So how do you enter?
Mandatory Entry: Who would this book help to learn to cook?

Additional Entries:
1)
Follow us on Facebook
HERE
. Worth
two entries
so leave two comments here! (Psst … we love comments on Facebook so maybe you can leave us one!)
3) Tweet about this giveaway with this tweet:
RT #Win a The Kitchen Counter Cooking School at @simplybudgeted http://bit.ly/o0oBDA ends 11/3 #giveaway #cookbook #cooking #recipes #book
Leave a comment with the URL for your tweet. (One Tweet per day until end of giveaway!!)
4) Follow us publicly through the Google Friends Connect in the footer. Leave a comment with your name that you subscribe with.
5) Subscribe to the daily email here at Simply Budgeted. It is at the top of the sidebar!;) Please leave a comment. (worth 5 entries!)

NOTE: We were provided with a review copy of this book to provide this review. All thoughts and opinions expressed are our own. All prizes are mailed by the PR company or actual company.