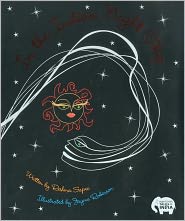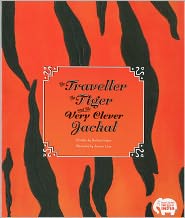 Details …
In the Indian Night Sky
When the monsoon rains come it's not just us mere mortals who get to join in the celebration. The heavenly bodies have a little party of their own to send the rains off into their downpour. See what happens when Moon, Wind, and Sun are sent off to a grand feast hosted by Thunder and Lightning. Northern Star guides them on their journey with one request that they must fulfill on their return. What will happen when Sun and Wind get caught up in the celebration, forgetting all about Star's special request? Brilliantly illustrated by Jayme E Robinson, this stunning tale will sail you through the cosmos with an imaginative style that jumps off of the page.
The Traveller, the Tiger, and the Very Clever Jackal
One would think that as a man gets older he gets wiser, but not old Raaheeji. Ignoring his wife's warnings, old Raaheeji wanders deep into the woods where he is about to meet his demise. Threatened by a man-eating tiger, Raaheeji goes on an adventure, meeting an interesting cast of characters. But he it is not until he happens upon a jackal in the woods that his fate truly takes a turn. With original, hand painted illustrations by Jessica Lian, this classic Indian folk tale is brought to life with an exciting new story that is sure to entertain both young and old alike.
Our Thoughts …
The illustrations in both of these books are beautiful. The first comment my Sophie made when see these books was about the stars in the picture of In The Indian Night Sky.  The Traveller, the Tiger, and the Very Clever Jackal has illustrations that are bright and vibrant. These books are definitely books that will continue to grow our kids as they grow. I know they will get more of them as they get older and see more than just a Tiger but for now they are enjoying the stories and the beautiful pictures that look more like artwork than a child's story book!
You can find both of these books over at Amazon so go check them out for your library collection!
NOTE: We were provided with a review copy of these books and other promotional items to provide this review. All thoughts and opinions expressed are our own.