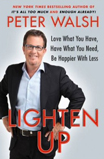 Details …
It seems as though not a day goes by that we don't think about money. We cut back on spending. We chase a bargain. We try to save more. We strive to use less credit. We worry about funding our retirement and our children's education. Yet we continue to spend money on things that don't matter. Peter Walsh knows that money and debt can overwhelm your life even faster than clutter, and he has a plan to help you deal with that emotional and financial chaos. Peter's previous bestselling books inspired us to successfully evict the clutter in our homes, on our bodies, and in six key areas of our lives. But for many people, clearing the clutter suddenly exposes deeper issues—financial, physical, and emotional. Sometimes our problems are not really about the physical stuff but about the emotional fabric of our lives—from our relationships with money to our relationships with people and even how we define and find happiness.
In Lighten Up, Peter demonstrates that this reassessment of priorities is a great opportunity to examine our lives and circumstances and to make the changes necessary to focus on the things that really matter. Exploring the real source of happiness, Peter offers a clear strategy for finding the delicate balance between what we have, what we need, and what we want or feel entitled to. With three unique audits that cover every aspect of our well-being, he takes us step by step through sizing up not just our possessions and financial statements but also our thoughts, goals, use of time and energy, and even our innermost sources of tension. He then shows us how to embrace the changes we've experienced, set a new path for the future, and come to accept that living on less can feel—and be—so much richer.
Our Thoughts …
This is our first introduction into Peter Walsh's books. It might be odd for us to say that being a budgeting site but we talk about our simply methods for budgeting so it always great to see what others see. This book really a work book more than a reading book. Plan to think and have an ink pen in hand! If you are in a relationship, you should read this book with your husband, wife, who ever you share finances with right now because it will impact you both. This books makes you think. It covers the WANTS versus NEED thought that we talk about here. If you are look for a way to work through redoing how you look at your finances and budget, check out Lighten Up! This book might be the right book to get your budget on track for 2012!!
You can buy Lighten Upon Amazon right now so click over there and be on the path to lighten up your family's finances!
We are excited to offer TWO our readers a copy of Peter Walsh's Light Up to get them started on the right financial path as we close out 2011!
Details:
This drawing will end Tuesday, November 22nd at 11:59pm EST. The winner will have 48 hours to reply with their address. You must include your email address in the comment form so you can be contacted if you are a winner! You must complete the Mandatory Entry for the additional entries to count.
This giveaway is open to US residents only!
So how do you enter?
Mandatory Entry: Leave us a comment about what you hope to change in your budget.

Additional Entries:
1)
Follow us on Facebook
HERE
. Worth
two entries
so leave two comments here! (Psst … we love comments on Facebook so maybe you can leave us one!)
3) Tweet about this giveaway with this tweet:
RT #Win a 1 of 2 copies of Peter Walsh's Lighten Up book at @simplybudgeted http://bit.ly/u0eGq5 ends 11/22 #giveaway #book #budget #finance
Leave a comment with the URL for your tweet. (One Tweet per day until end of giveaway!!)
4) Follow us publicly through the Google Friends Connect in the footer. Leave a comment with your name that you subscribe with.
5) Subscribe to the daily email here at Simply Budgeted. It is at the top of the sidebar!;) Please leave a comment. (worth 5 entries!)

NOTE: We were sent a review copy of this book in support of this review. No other compensation was received. All thoughts and opinions expressed in this review are our honest opinion.