Balloon artist Treb Heining turned an unlikely skill and a daydream into a worldwide industry. While working as a balloon vendor at Disneyland at age 15, Treb discovered he was a wizard at tying balloons. He dreamed of turning his unusual talent into a career and the results have dazzled millions of people around the world. Over the past 40 years, he has invented awe-inspiring displays and stunning spectaculars, including balloon arches, columns, lettering, sculptures and more. Treb also invented the most popular balloon in the world, the magical Mickey Mouse "Balloon within a Balloon."
Now, with MyOwnPet Balloons, Heining brings the fun to your home with a whole menagerie of inflatable pets to capture the imagination of the young and young at heart.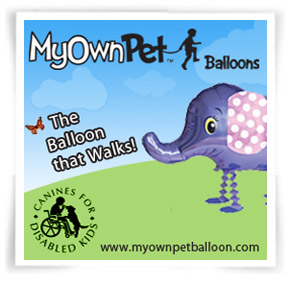 For every MyOwnPet balloon purchased here, $5 will go directly to help Canines for Disabled Kids.
NOTE: No compensation was received for this post. It is posted in support of the Canines for Disabled Kids cause.