and eyelashes … OK, I really don't need to sing that song. If anyone was to sing it, you would be asking for Brian to sing it instead of me for sure.
Remember those snowflakes that you made as a child? Cut out snowflakes can be simple or complicated. They each have their own beauty for sure. So even if you don't have little ones at your house, think about adding adding a snowflake activity to one evening next week!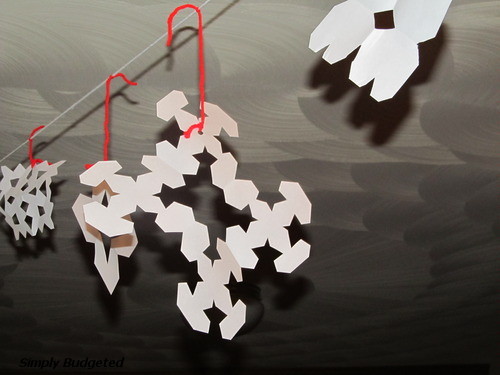 What is needed?
White paper cut into squares (this make is way easier to make the snow flakes!)
Scissors
Yarn (we used white and red because that is what I had)
Dust pan (to clean up the snowflake mess!)
Directions
If kids are involved, pre-cut the paper into squares because the step of cutting the paper into squares will bore them to tears for sure.
Fold the paper in half and then half again. (If you want to get fancy you can keep folding in half or do the triangle fold.)
Start cutting out shapes.
Ta-da! Snowflakes!
String a piece or two of yarn across the room. (We use nails that were holding stuff, the light, and the curtain rods. Push pins can work if you don't have anything else to use!)
Cut enough small strings (6-10 inches in length) for all of your snowflakes and tie a knot on your snowflakes.
Tie the snowflake strings to the ceiling strings.
Ta-da! "Snow flakes are falling on your …"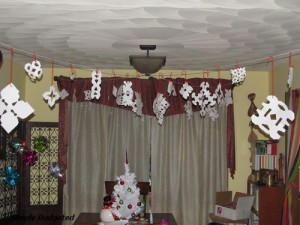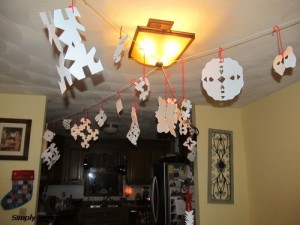 This is an easy and very, very budget friendly way to decorate a room for the holidays! Do you decorate with snowflakes? If you try this, let us know. We love to read your comments about these budget decorating tips!