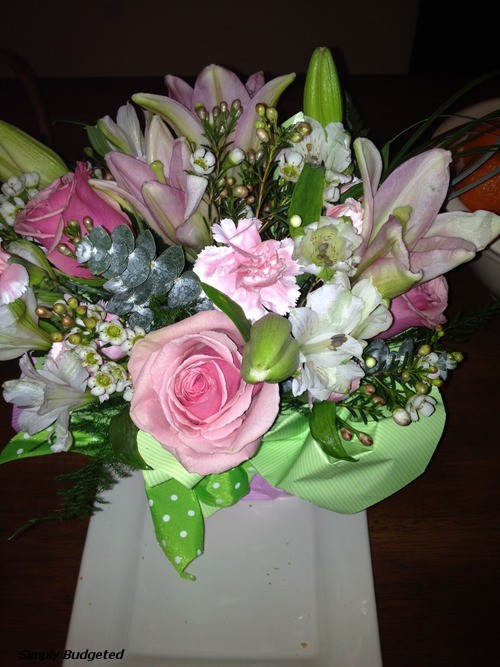 Ready to skip ahead a few holidays to Mother's Day? Well here at our house, it isn't skipping too much as we plan ahead on holidays and what gifts we buy. The Easter basket items are already collected for the kids so it is time to start to seek out mother's day gift ideas.  We don't always see our mothers on Mother's Day so a stand-by gift for us is flowers. While flowers are a simple idea it gets complicated fast if you don't know the flowers your mother loves. My mom loves daisies so I try to get an arrangement that has daisies in it. Brian's mom doesn't have a flower she loves so we normally pick an arrangement that is simple and is girlie in colors. Since she only had boys, I love to get her girlie things to enjoy!
If we do see our mothers on Mother's Day, we try to make them a meal or at least send them home with a baked good such as a coffee cake. My mom loves to turn her kitchen over to Brian to make a spaghetti dinner or maybe even a roasted chicken dinner. A big family meal is loved by my family and normally draws my brother, my sister, and brother-in-law to the table!
What are your plans for Mother's Day? If you haven't thought about it and you are a mom, maybe you should start thinking about it so can drop some hints. I am hoping for some of my favorite flowers, astromelias, and a yummy Brian cooked dinner!