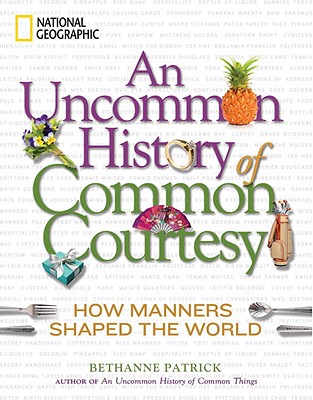 Details …
With engaging and artfully presented text, including sidebars on media mavens throughout history, social gaffes, and archaic manners, this book is as entertaining as it is informative. Readers delve into cultural similarities and differences through lively passages, colorful photography, and sidebars on unique history. Topics include Courtesies and Greetings, Communication and Correspondence, Dining and Entertaining, Hierarchies and Protocol, Hospitality and Occasions, Amusements and Institutions, Boundaries and Cultural Differences, New Technology and Old Manners. Whether you are planning a trip abroad or just want a fascinating, browsable read, find out what is universal and what is merely a product of one's culture.
My Thoughts …
I am always commenting on how people seem to be forgetting, or failing to learn, basic common courtesy.  So, in that regard, this book is very well timed and I loved it.  It has short entries which are perfect for those nights when I wants to shut off the TV, but doesn't want to commit to a chapter in a novel or a more challenging read.  The book covers a broad array of concepts but does not go too deep into any one topic.  This makes for an easy read but may leave history buffs like me wanting more.  I felt like some of the entries were kind of glossed over, but I has definitely learned a few things reading it.  All in all, it's well worth picking up a copy.
This book would be a great gift for a history buff in your family or someone who is always reminding you to mind your manners. You can find it over on Amazon for a great price right now too!
Who in your life would enjoy reading this book? Leave me a comment and let me know!