We recently had the opportunity to review the Linksys EA2700 Wireless Router (for the geeky ones it is the … Linksys EA2700 | Maximum Performance Dual-Band N600 Router with Gigabit).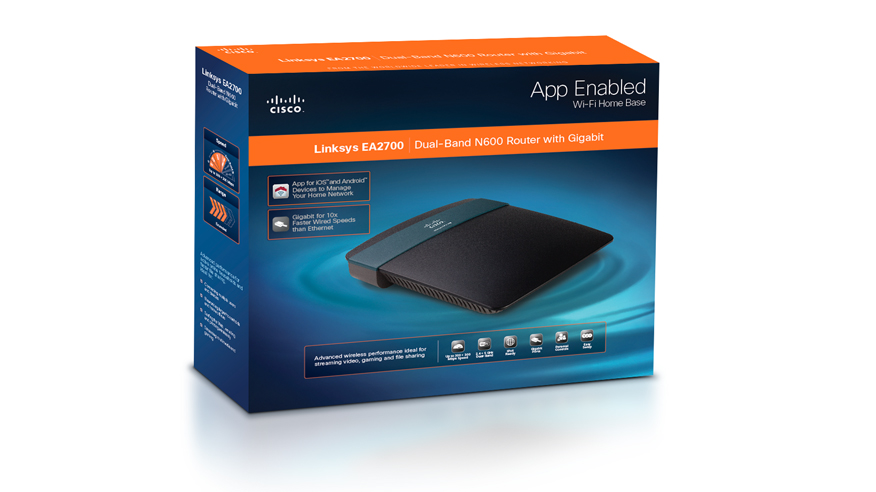 Details …
High speed (up to 300 + 300 Mbps)
Extended range with MIMO antenna array
Gigabit Ethernet Ports for 10x faster wired speeds than Ethernet
Simultaneous dual-band to maximize throughput and help avoid network interference
Cisco Connect Cloud (Available summer 2012)- Get anywhere, anytime access to your home network from a browser or mobile device. Plus, optimize your online experiences with included apps.
Retail Price: $109.99
Our Thoughts …
We love Linksys products. Honestly all the way back to college when I ran the ethernet cord under the carpet and over my roommate's door frame in that apartment so my we could be online at the same time, I have owned Linksys products. Man, wireless would have been nice back then! Now thankfully we aren't running wires under the carpet, over door frames, or anything else crazy like that.
Here is our new Linksys EA2700 Wireless Router in use … sorry for the picture quality but I was NOT going to be the one to unhook it for a picture. As a result, you can see by all of the wires plugged into this right now that it is in high usage at our house right now!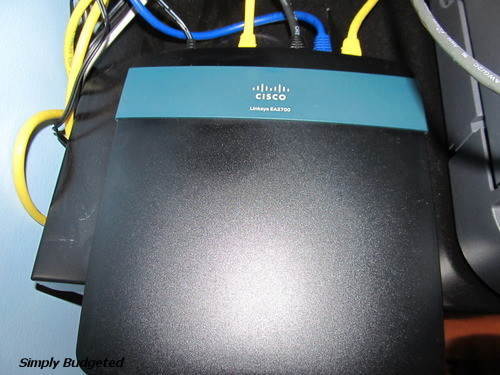 Thanks to wireless technology, our router sits in the basement next to the desktop in the "office" area. We are able to hook up the laptop upstairs, the printer upstairs, the garage door opener (more to come on that!), our iPhones, my work laptop, the iPad, whatever we want to the internet! We love wireless needless to say. Now for the new Linksys router, I wasn't sure what this router would bring us over our previous one but I knew the one had some vintage age to it so I was excited to the latest and greatest technology … my favorite feature of this router is the guest network. Yes, we have two networks in our house … our family network and the guest network. This is so great because when family or friends come over and want to jump on our WiFi with their smart phones, we can give them some funky password that isn't our network password. I think we can have some serious fun with this guest password and see what we can get folks to type into their phones!;) I need some ideas though so more to come on that!
This would be a great Mother's Day, Father's Day, or graduation present for someone who is looking for an upgrade or maybe even starting on out on their own and needed to set-up their own space with a wireless network!
We are super excited to offer a giveaway with of the Linksys EA2700 Wireless Router to one of our readers! Yes, you read that right, you get the chance to win one of these!!
a Rafflecopter giveaway