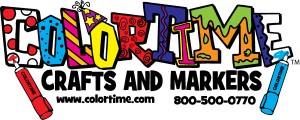 About …
If you're looking for easy craft ideas for children, then check out these fun, do-it-yourself, craft ideas for kids! The possibilities are endless with the products we offer here at Colortime Crafts and Markers. You can wear, carry your stuff in (tote bags and backpacks), rest your head on (pillowcases), or even give a Colortime keepsake as gifts! Whether you're searching for Girl Scout crafts, scout shirts, or kids t-shirt painting ideas (without the messiness and drying time of paint), ColorTime has the perfect solution! We offer a large selection of t-shirts to color for boys and girls, in addition to many other great products!
Our Thoughts …
Grace (almost 6) took the task of coloring the tote bag that was sent to us. She did a great job coloring this on her own … plus it let her escape from her (annoying to her brother and sister) for a bit!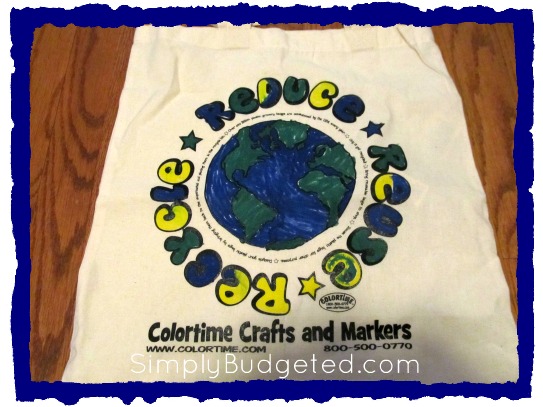 Plus I took these markers to one of Daisy Girl Scout Meetings. I tie dyed t-shirts blue (we are Daisies!) before the meeting. At the meeting, the girls took turns using the markers to color on their shirts. The only requirement was they wrote their name on their shirt and they did great. Here is Sophie's shirt!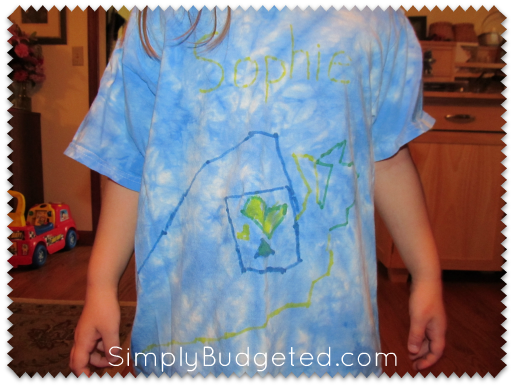 These markers worked great for the little girls. They are easy to use and have great color to them! I did put a piece of cardboard between the front and back of the shirt so the markers didn't bleed to the back and that worked like a charm. I think we will have to make more shirts or bags or aprons next year as a Girl Scout project and when that happens I will order more markers for sure!
Bonus …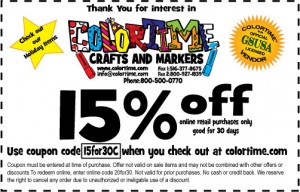 The coupon expires on September 4, 2012.
Free ground shipping on orders over $60. In the continental US. Only for retail, web-based orders, placed on our website. Not to be combined with any other offers and discounts. To get the free shipping, use code FRSH11W.
Colortime is doing a giveaway via their Facebook page (www.facebook.com/colortimecrafts). It is a weekly fan giveaway. Here are the instructions:
Each week Colortime Crafts and Markers will randomly draw 3 lucky FANS who will receive a special craft package, which includes a Colortime color-your-own "Recycle Tote Bag" and three special permanent Colortime FABRIC MARKERS. All you have to do to be eligible is to "like" and become a fan of Colortime Crafts and Markers on Facebook. Head over to Colortime's Facebook Page to enter!
PLUS we are excited to host our giveaway from Colortime too! ONE reader will receive a tote bag and 3 markers. This giveaway is open only to US residents.
a Rafflecopter giveaway