Who is JC Toys?
JC Toys has been making high quality realistic baby dolls for over 30 years, and their new additions to their line-up are no exception. The newest dolls, priced from $12.99 to $59.99, allow youngsters to role-play the hugs, kisses and cuddles that they observe in their own family. What's remarkable about these dolls are their faces — full of amazing expressions and realistic eyes, hands, nose and even belly buttons. The secret to JC Toys' longevity in the toy market is their famous sculpts and accessory designs.
Our Thoughts …
We were sent two of the Lots to Cuddle 20″ Dolls #35016 in pink.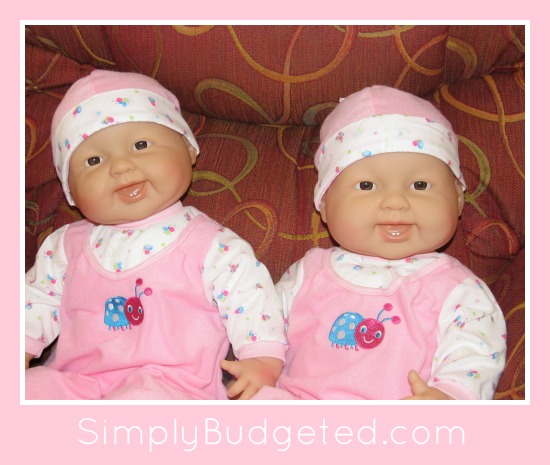 The girls have really been enjoying these dolls. Grace has named her Anne (Sophie's middle name) and Sophie has named her's Elizabeth (Grace's middle name) … super sweet, huh? When I sent them to get their dolls they had to find the clothes too. I am not sure what it is about little girls undressing dolls but it always seems to happen. These dolls come with a hat, an outfit, and slippers.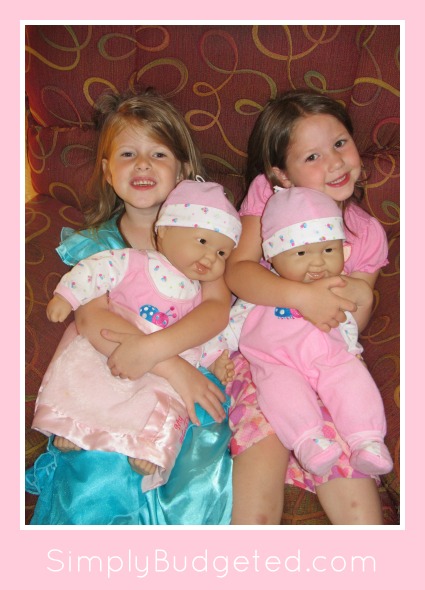 When taking these pictures, what impressed me the most is my camera was catching the dolls' faces as faces to focus on in the picture. The faces looked like little smiling girls in the picture! Oh and I will add these dolls are a perfect size for Grace and Sophie who are almost 6 and 4.5 years old. Some of their other dolls are so small compared to them now but these dolls fill up their little arms and they just love hugging their soft bodies!
We are excited to announce that JC Toys is giving us the chance to giveaway a doll to one our readers! You can pick from the following list of dolls:
Lil' Hugs # 48000 available in pink, peach or purple
Lil' Cutesies Play theme #16936 ( 3 expressions to choose from)
Mini La Newborn (real girls or boys – anatomically correct, Asian, African American)
Lil' Cutesies (Twins in Stroller or Twins in Bathtub)
Lots to Cuddle (20" doll, choose from 2 colors)
*Note: Selection must be in stock at time that the winner is announced.
a Rafflecopter giveaway