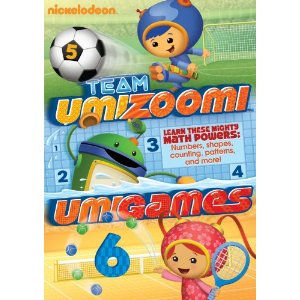 Details …
Join "Team Umizoomi" on four mighty math missions filled with exciting games, including the biggest sports event around – the Umi Games.
Our Thoughts …
I was excited to see an Umizoomi DVD as the kids enjoy the show and the engineer part of me loves shows that encourage math and science. The kids asked for this during their afternoon time where we ask them to calm down a little bit and not be as crazy so I put it in the DVD player. While they are still they age where they don't fully watch most shows on the TV, I did find them sitting there counting and doing the math problems during the show. Grace was really enjoying them as they were similar to some of the math problems she had been working on at school. It was great to see her say the answers so fast but also see Sophie sit there and try to work out the answers.
If you are looking for a good summer DVD to keep the brains at your house thinking about math then check out this DVD!
Do you love Umizoom at your house? What do you do at your house to encourage the learning math? Leave us a comment at let us know!