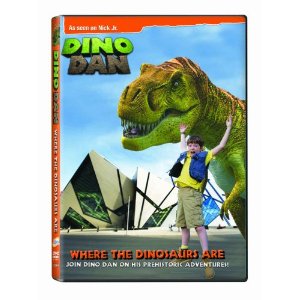 Description …
Follow the adventures of paleontologist-in-training Dan Henderson as he imagines dinosaurs into the real world! Join Dan as he teaches a baby Triceratops defensive moves to help it get around a meat-eating Spinosaurus! Then find out why the T-rex has such small arms when Dan and his friends embark on a sleepover adventure at the famous Royal Ontario Museum. Tour the museum and learn about real fossil skeletons, from the Stegosaurus to the Tyrannosaurus Rex. But then the visit quickly turns into mayhem when some sneaky dinosaurs steal a T-rex claw from the museum! Will Dan be able to get the T-rex claw back before sunrise? Join the adventure in Where the Dinosaurs Are!
Our Thoughts …
Little Man is a big … no make that a HUGE Dino Dan fan. He saw this DVD and jumped up and down saying "Dino Dan, Dino Dan, Dino Dan!" Of course he wanted to watch it right then but was good and patient to watch it later. Why do I love Dino Dan? It is science … and it is FUN! The girls will sit and watch Dino Dan and not scream it is a boy show. I admit the only dinosaur I remember is T-Rex but this show makes dinosaurs fun to learn about. You can learn about which dinosaur is faster than the other! You can learn about their foot prints and what they eat. Dan is really good about learning about dinosaurs!
If you have a dinosaur fan in your house and you haven't found Dino Dan yet, you are missing out. If you have just been DVR'ing Dino Dan like we were, you are missing out on the Dino Dan DVDs and the joy of your almost three year announcing "Dino Dan House!" when the DVD starts in the van!;) Amazon has a great deal on this new DVD right now too!
Do you have a Dino Dan fan your house? We are excited to giveaway a copy to one our readers so enter this great giveaway!
a Rafflecopter giveaway