About …
Your preschooler will love learning the skills important for school. Includes counting, colors, tying shoes (bunny ear method), being neat and tidy, following directions, holding a pencil, printing letters, listening, and more. The fun, animated characters make it easy for your child to get involved and practice right along with the video. This home edition features highlights from Rock N Learn Getting Ready for Kindergarten.
Our Thoughts …
This year Sophie is going into a transitional kindergarten class at a preschool near us. She misses the birthday cut-off to go to kindergarten this year but is so far ahead thank to her big sister that we felt this would help challenge her! When she say this DVD, she was really excited because anything school related is a lot of fun for her.
I came home from work and she was so excited she watch this DVD that day. She told me all about everything she learned from the DVD. My favorite comment was "I set the table just like the school TV showed!" We love for the kids to learn through observation and have found the Rock 'N Learn videos to fit with that approach!
Plus … Rock 'N Learn is offering a series of value-priced preschool DVDs at Sam's Club locations nationwide. These $7.98 (Retail $14.99) DVDs are available for a limited time through September while supplies last.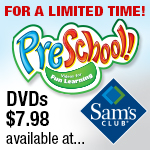 You can also find this DVD on Amazon.
We are excited to giveaway a copy of Ready for School to one our readers! Good Luck in the giveaway!
a Rafflecopter giveaway