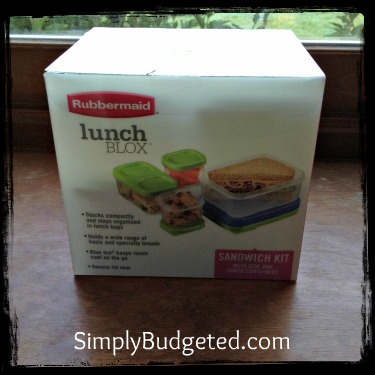 Details …
Rubbermaid LunchBlox™ makes packing lunch easier than ever. These modular containers snap together in multiple configurations to efficiently 
use the space in your lunch box or bag. Containers are perfectly portioned for your favorite lunch foods with handy measurements on the sides of each container. Your lunch stays chilled with snap in Blue Ice™. Individual containers are sold separately from kits so you can configure a different way everyday.
Containers stack compactly to stay organized
Blue Ice™ keeps your lunch cool on the go
Secure lid seal
BPA-free
Microwave, Dishwasher, and Freezer Safe
Sandwich container holds regular and specialty bread
Sandwich Kit includes 2 Snack Containers, 1 Side Container, 1 Sandwich Container and 1 Medium Blue Ice
My Thoughts …
I haven't been packing sandwiches for lunch this week (I have been trying some homemade shakes) but I have been packing snacks to eat while at work. So I decided to try the Rubbermaid LunchBlox to see if it worked well for my two snacks packing plan. It did!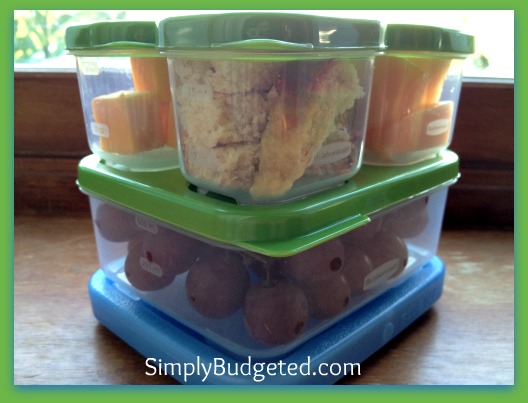 I packed grapes, cantaloupe, cheese cubes, and half a piece of banana bread! I do pack sandwiches for work on a regular basis though and this will be great when I pack my lunches. Two days a week starting in September I will be packing 4 lunches, 3 kids snack, and my work snacks at night so I need any organizing help I can get in the lunch and snack packing area!
You can check out the Rubbermaid LunchBlox online or at a store near you! Plus you can follow Rubbermaid on Twitter, follow Rubbermaid on their Blog, and like Rubbermaid on Facebook!