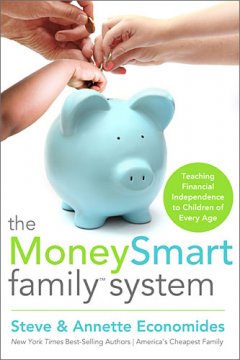 Details …
Is it possible to raise financially responsible kids of any age in a society filled with consumerism and entitlement?

New York Times best-selling authors Steve and Annette Economides raised their five kids while spending 77 percent less than the USDA predicted. And the money they did spend was also used to train their children to become financially independent. The MoneySmart Family System will show you how to teach your children to manage money and have a good attitude while they're learning to earn, budget, and spend wisely.

Learn how to:

Get the kids out the door for school with less stress.
End the battle over clothing—forever
Teach your children to be grateful and generous.
Inspire your kids to help with chores as a member of a winning team.
Prepare your kids for their first paying job.
Help your kids pay for their own auto insurance, and even pay cash for their own cars.
Employ strategies for debt-free college educations.
Truly help your adult children when they want to move back home.
Be prepared to deal with your adult children when they ask for bailouts.

With clear steps for children of every age, The MoneySmart Family System proves that it's never too early, too late, or too hard to start learning financial responsibility.
My Thoughts …
We have been looking for a chore system for our children. We have tried check marks and stickers but it hasn't been as successful as we had hoped. I had no idea what to expect from The MoneySmart Family but I was thrilled to see charts that I can copy (or recreate) with ideas on how to reward the children for contributing to the family while learning about money. Two solutions in one system … perfect for our family! The best news in reading the book is that it is scaled by ages which has been another struggle for us seeing that Grace is now 6 and Matthew is only 3! We know we can't expect the same from them but I want Matthew to know what is expected of him even when he is only 3!
We have started to teach the children about money so this system will let us have a method to teach the kids about money. I am excited to start this system with our kids next month (so I can get all of our ducks in a row and be ready!) Plus they will all be in their school programs by then. I hope to report back with an update at some point!
This book is available on Amazon in print and in a Kindle edition!
Do you think this money management approach would work for your family? Leave us a comment and let us know!