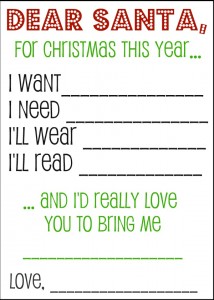 Are the Christmas Wish Lists starting at your house already? We are just past the Matthew and Grace summer birthday season it seems yet Christmas is often mentioned around here. Christmas is normally mentioned when we go through the list of who's birthday is coming up next … Grandpa, Aunt Amy, Uncle Greg, Uncle Jason, SOPHIE!!!, Baby Jesus' birthday on Christmas then Mommy. whew. This conversation happens at least weekly at our house it seems.
To top that off, the kids may see a toy when we are the store or in a newspaper ad. By the way, are our kids the only ones that love looking at the pictures in the newspaper ads? Anyway, they will ask when they get presents and for Grace and Matthew we say Christmas. I have caught myself twice recently saying that maybe they should save that idea for their Christmas wish list.  Their interests seem to change every day but it isn't a shock when someone asks for Lego Star Wars this Christmas  one minute and another one asks for Barbie Princess Popstar the next minute. Little do they know that I have already started the Christmas gift stash for them. Just this past weekend, I started the stocking gift stash for each of the kids (it is hiding in our closet! shhhh!) By the time December rolls around, I will be down to needing to get one gift for each of them. Last year, the last gift I bought for each them was the gift they asked Santa for at the mall since Santa brings one gift to each them each year.
Have your kids started thinking about their Christmas wish list? Maybe the better question for your budget is have you started shopping for your Christmas gift list to help manage the holiday expenses? Leave us a comment and let us know!