We went to my parents' yesterday to celebrate birthday but had the added excitement of watching the Sky Dive from the edge of space by Felix Baumgartner. My dad had been flipping back to the coverage all morning and even after we got there. Suddenly in the middle of mom and I doing dishes, he tells us come watch the TV.
There we were … all ten of us piled into the living room with a glass top coffee table (click here) and even sitting in the kitchen looking at the TV watching a guy named Felix we had never heard of before that day. Learning that Joe Kittinger who held the previous record was one of the individuals talking to Felix made it even more amazing.
We watched Felix check depressurized the cabin and open the hatch. Then he moved out and they checked his parachutes. He was told several times to remove the air tubes before he final did it. Then he stood up and jumped. oh my lands my heart dropped.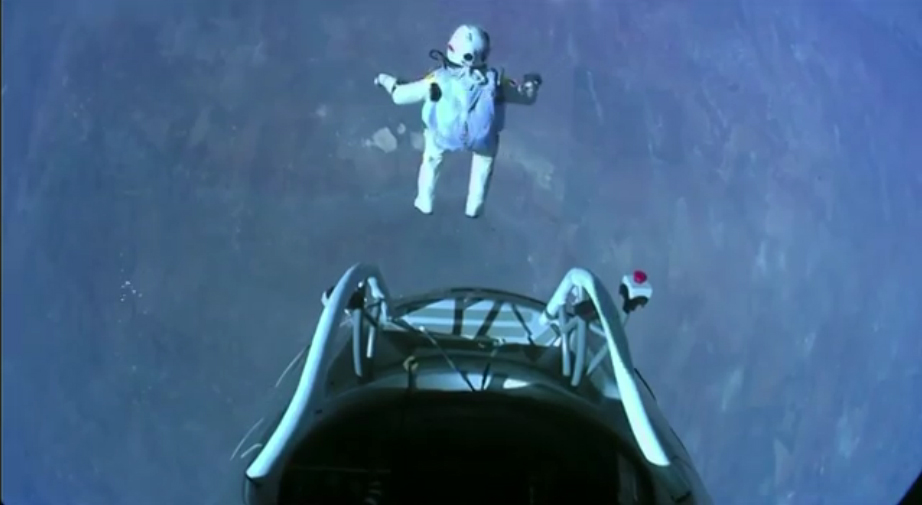 Photo CREDIT: Red Bull Stratos
There was Felix, a little white dot on the screen falling back to Earth. They had talked about him needing to control his descent and not spin but they showed the little dot spinning so worry crossed everyone's mind. He got control of the spin and was falling, falling, falling. They started talking to him again and he mentioned his visor fogging up. Pictures of his mom watching were shown several times and I was about ready to break into tears for her.
Then the camera view finally switch to that of from a helicopter flying in the area so you could see Felix and that he looked OK! He landed on his two feet in a field! All of us breathed a sigh of relief at the same time Felix's mom did.
It was amazing to watch that but I pray that my kids don't tell me they are going to do that one day. I don't know if my heart could handle that like Felix's mom did!
Here is a recap video by RedBull (the sponsor) of the Sky Dive …
Did you watch the #skydive? What did you think? Leave me a comment and let me know!