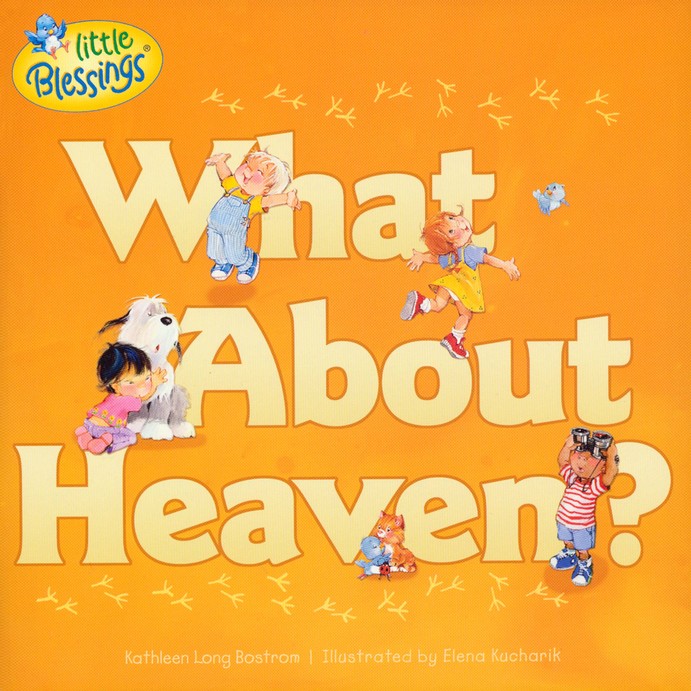 About …
What about Heaven? is the next book in the best-selling Little Blessings line, using captivating art from Care Bears artist Elena Kucharik, along with wonderful text from Kathleen Bostrom.  Answer your child's important questions about heaven with this theologically-sound book for kids. With a rhythmic, rhyming text and colorful illustrations, this book answers your child's questions in an age-appropriate manner with scriptures to reference.Preschool children and adults alike can explore the mysteries of heaven.
Our Thoughts …
We received this book a few weeks ago and I was excited to read it to discover a child level story about heaven. The girls ask about heaven but I always feel like my answers are lacking. The sing-song rhythm of this book make it a nice read that is full of details and so much information for them to think about. I read this book again last night to Sophie and kept asking me what certain word were, one of them being heaven. So each time that word came up, she would point it out. I love the she is using a book like this as a tool to help with her reading skills.
As soon as Sophie and I were done with this book, Grace snatched it up to read. She was told she needed to get ready for bed before reading though. So what does my little reader do? She starts the book downstairs and then continues reading it on her way up the stairs. We gave her permission to finish it in it bed last night and she was so thrilled to read the book on her own.
It is wonderful to think of heaven as our children do and this book was a great reminder to do that.
We reviewed the newly released soft copy version of this book. Amazon
has the hard copy version for sale but I did find the soft copy for a bargain price at Christianbook.com so check out both of those and add this book to your home library collection too!
How do you talk to your children about heaven? Leave us a comment and let us know!