We recently received the HABA Color Fun Pegging Game to review before the holiday gift giving season!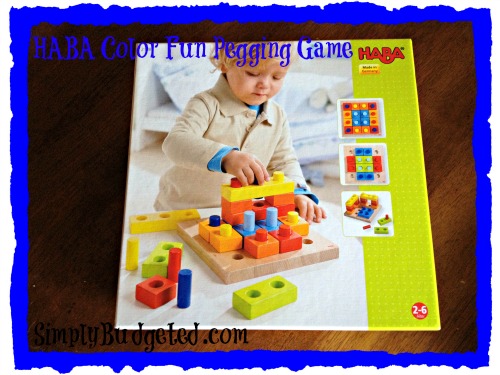 Details …
Color Fun Pegging Game • $40.00 MSRP • Ages 2+
This brightly colored pegging game comes with 36 interchangeable pieces for endless playing configurations. Made of beech wood from German forests, this simple construction game will hold a tyke's interest every time they start with a blank slate. Up, down, across and layered, the possibilities make it fun for siblings and parents to get down on the floor and play too.
Our Thoughts …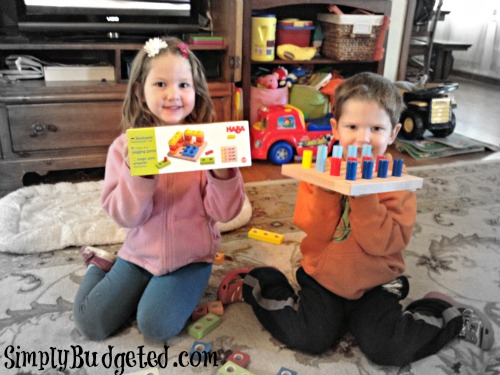 Matthew has claimed this toy but Sophie loves to play with him with these blocks. They play nicely together with this toy most of the time which is a big deal for any sibling sharing of a smaller toy. If you have more than one kiddo, you know just what I mean when I say that!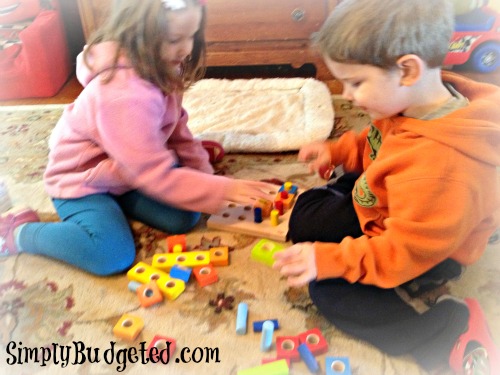 I have had fun with this game with Matthew too. We talked about colors and shapes with the different blocks. Matthew does love trying to stack everything as high as he can. Sophie on the other hand wants it all to fit together perfect so it fits back into the box. Watching their little heads think through all of this was a great treat for me. From the mom point of view, I do love that they are able to put all back in the box on their own. The HABA Color Fun Pegging Game has found a spot in the game/puzzle drawer for sure. The fact that the quality of the wood blocks is great leaves me to believe that it will be used for awhile by the kids as a favorite puzzle and game toy!
We are excited to offer a HABA Color Fun Pegging Game to one of readers in a giveaway! (Tuck it away as a Christmas gift for sure!!) Good luck!