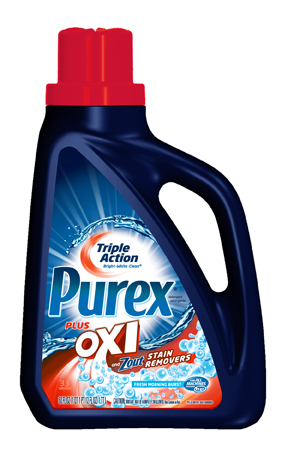 Details …
Purex® plus Oxi is so powerful, it works against over 101 different stains!

The three stain-fighting enzymes in Purex plus Oxi each work against different types of stains for the most Purex stain-fighting power you can get.

What scents are available?
Plus it works in regular and HE machines!!
My Thoughts …
I am pretty picky about detergent. I honestly wasn't sure of this new Purex for two reasons … one the dye and two the fragrance. I am a bit of a fragrance snob when it comes to laundry products and openly admit that I love non-smelly products the best. The Oxi part of this new Purex though almost makes up for the two cons I found in the product. I do wish they had a dye free and and a fragrance free version though. Maybe soon? I can hope as I do love the budget friendly price of Purex products.
Want to try the NEW Purex plus Oxi yourself? I am excited to have three free product coupons to give to our readers. Good luck!!