Our kids kindly told us no less than three times (one each) that today was the first day of Winter. Are you ready?! I am ready for Winter but not for Christmas. I LOVE winter. I love my warm sweaters, big fluffy socks, snow days (we need more of those!), a warm fire, and popcorn. I don't love the dry skin that I get during the winter though. If my skin is dry it cracks and crack skinned HURTS!
Neosporin Essentials to the winter skin rescue! This line is specifically designed for people with eczema, but is great for anyone dealing with dry, itchy or irritated skin.  The line includes a Daily Moisturizing Cream and Daily Body Wash!
I love that Neosporin Essentials offers a Trial Size Bundle of the new line! If you are like me and like to try items before you commit to a full bottle then this trial pack is for you!! Look for this in a store near you!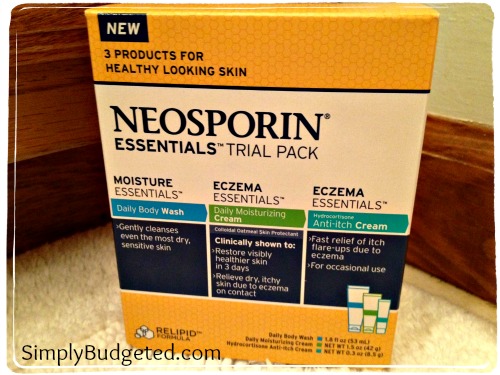 Wonderful Winter Weather Skincare Tips from Dr. Peter Lio that we all need …
Cold and dry weather outside and forced hot air inside can put the skin at high risk for irritation. The lack of sunlight may result in lower levels of vitamin D which may be related to skin irritation as well.

Keep skin warm and protected when outside
Try a thick, protective moisturizer on any exposed skin to prevent windburn
Consider talking to your doctor about supplementing vitamin D during the winter months as many people are deficient
Consider getting a humidifier for bedrooms to help add moisture to the dry air
Moisturize within minutes after every shower or bath to help lock in the water
We are so excited to offer our a readers giveaway that includes full size samples of each of the products from the Neosporin Essentials line – Anti-itch Cream, Daily Moisturizing Cream, and Daily Body Wash!