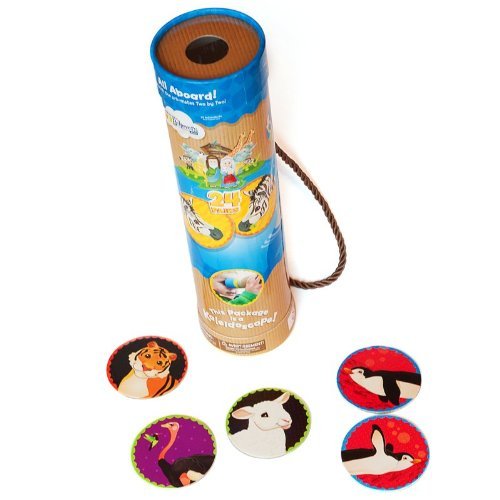 Recently we had a chance to review the Noah's Ark Matching Game +Kaleidoscope, another in the line of faith-based products from Wee Believers.  Check out our other reviews on Wee Believers Floor Puzzles.
Details …
Make a pair, two by two, fun and games with Noah's crew! 48 sturdy game pieces featuring Noah's lively animal friends are stored in a keepsake, reusable container that doubles as a
colorful kaleidoscope when empty! Game comes with suggestions for extended play ideas and each game piece measures 2.25" round.
Our Thoughts …
The kids love this game. They love seeing the Noah's Ark animals and they have played the matching game multiple times but … Matthew has claimed the game.

He just plays with the circles and lines them up or matches them on his own. In the process he has managed to lose at least one of the circles. That doesn't matter to him though, you can still find him playing the the "animal circles" at least every other day.  As far as the circles themselves go, they are beautiful, but it can be hard to tell which is male or female.  We also found it a bit strange to find whales and fish in Noah's Ark, but a 3-year-old doesn't seem to notice stuff like that too much.
The Kaleidoscope is a neat addition, but being so far down into the storage part makes the light more difficult to get down there.  You really have to point the kaleidoscope at the light to get it to work.  When you do, you get ooh's and aah's, but our kids didn't really use it for that.
All in all, it is a pretty great product.  While some of the features may not work ideally, we would have no problem highly recommending it to anyone who asks.  As a matter of fact, you might want to buy two…just in case your little one loses a card or two.  Amazon currently has a great price on these and they would make an excellent gift for Christmas. They would nicely fill up a stocking if you need a big filler item! 😉
Does your family like matching games? Leave us a comment and let us know!