This is post will feature Herlocher Foods, the third of five finds that we will feature from the DC Metro Cooking Show back in November! Watch this week for ALL of these finds as they might make a great Valentine's gift for your love or even your kids … or maybe a teacher … or even yourself!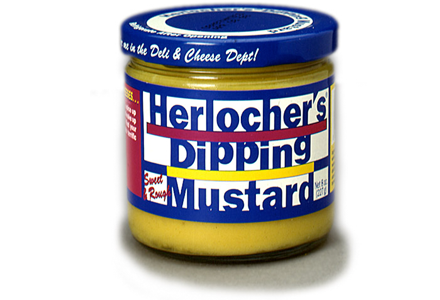 Details …
Herlocher's Dipping Mustard® is a delicious, versatile accompaniment to snacks, entrees, dressings and marinades. It is wonderful dipped, dunked, slathered and mixed. It electrifies simple recipes, inspires low calorie foods to greatness, and turns dull sandwiches into deli delights.

Our classic 8-oz jars of Herlocher's Dipping Mustard is perfect to eat with cheese and crackers, vegetables, as a pretzel dip, and on ham or turkey sandwiches. Plus Herlocher's Dipping Mustard is:

Fat Free
Gluten Free
Salt Free

Herlocher's Dipping Mustard is made with pure, fresh ingredients: pasteurized whole eggs, sugar, water, mustard flour, distilled vinegar, food starch, and turmeric.
Our Thoughts …
We love that Herlocher's Dipping Mustard is made with fresh ingredients that we can pronounce! Have you ever looked at a label and wondered what you were eating? We have been doing a lot more label looking in this new year and I am amazed at some of the products we eat … or maybe no longer eat at this point. Herlocher's Dipping Mustard is on the list to stay in our fridge with its fresh ingreidients though!
We have put out Herlocehr's Dipping Mustard several times since receiving the review jar at the DC Metro Cooking Show! I love the bright color of the mustard in this picture. I admit that I am not a big mustard fan but this color makes it so inviting that I even had to try it … and admit that this non-mustard fan did enjoy its great flavor!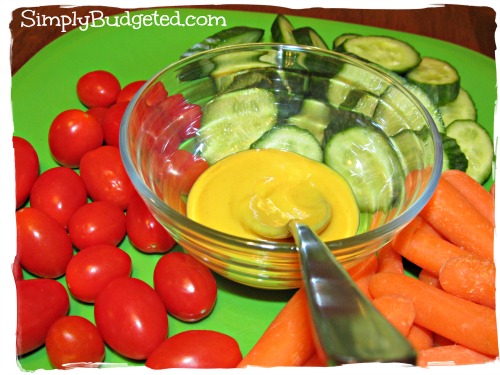 You don't have to stop at dipping with this mustard though, it would be a great ingredient in the marinade that you make for a pork tenderloin or whatever that favorite recipe is that you have that includes mustard!
What do you think? Are you ready to try Herlocher's Dipping Mustard?  You can buy Herlocher's Dipping Mustard at the online store or find a local grocer near you that carries this product. Be sure to follow Herlocher's on Facebook and Twitter!