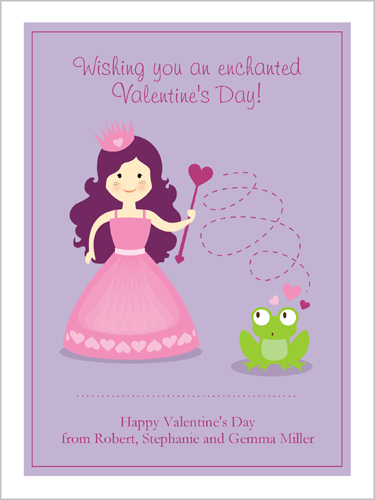 Do you remember sharing Valentine's Day cards at school as a kid? I remember making all of the cards with glitter (I now HATE glitter), glue, and whatever craft supplies I could dig up without mom noticing. My all time favorite part of Valentine's Day was making my mailbox though. Do you remember making a mailbox for your Valentine's Cards? I loved decorating and pretending it would last forever … yeah right. But that mailbox had to be perfect for the silly little cards. They all had super heros and cartoons on them. If you were lucky your friends taped some candy to them.  I love to try to non-candy options with the kids Valentine's cards. One of my favorite ideas so far is pencils. The kids in Grace's class always need pencils and they are easy to buy in bulk and tape to a Valentine's Day card of any shape or size! What is your favorite "favor" to attach to a Valentine's Day card for your kids?
Check out the Valentine's Day Cards that Shutterfly has to offer this year! They have multiple card sizes to fit all of your Valentine's card giving needs … 6×8, 5×7, 4×8, 5×5, 4×5! My little man would love these cards with the dump truck on them! Since he isn't super heros yet these would perfect for him to share with his preschool classmates!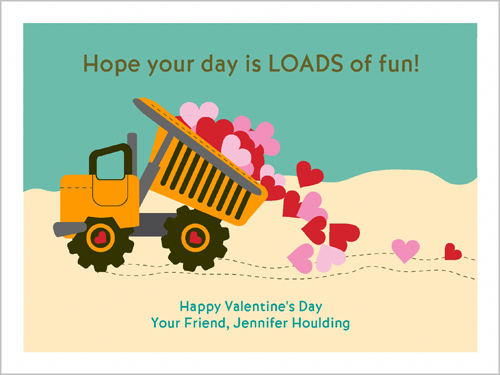 Don't need Valentine's Cards? Check out these other gift ides … personalized iPhone cases, Photo Water Bottles, and even a timeless Photo Mug! 
We are excited to offer our readers a giveaway prize pack that includes …  50 – 4×5 Stationery Cards – these are small classroom cards and 1 – 5.5×5.5 Desktop Plaque.
Into Social Media? Find Shutterfuly on Facebook, Twitter, and even Pinterest!