Last night was a night where I didn't want to pack lunches. I honestly get tired of packing lunches 5 nights a week. I do it because the food we send with the kids is healthier plus it keeps us eating healthy too. Most nights I make the girls lunches and then lunches for Brian and I (so we can grab and go!) Matthew gets a lunch packed twice a week for when he goes to preschool. That is 22 packed lunches a week (plus 12 snacks – 5 for Grace and 2 for Matthew) if you are counting … that is a lot of lunchbox love. Last night, I gave up and didn't make the salad lunches for Brian and I. I decided I would rummage for leftovers in the morning which I did do. It will help clear out the fridge a bit but still a bit lazy on my part. As I was grumbling through packing lunches last night, I realized that I needed to remind myself of the love the lunchboxes contain. Every child should experience some lunchbox love and last night I did smile as I closed up two lunchboxes and one snack to send off today.
Tonight will be a 5 lunch packing marathon. I try to see how few trips I have to make to the garage for lunch items. It is always at least two but generally three trips out there as I have no memory left at 7:30 pm when I do my lunch packing chore. I have gotten faster the more lunches I have to make each night. I also get to see what moods the kids are in by what they decide to not eat out of their lunchbox! This helpfully as we making our grocery lists each week.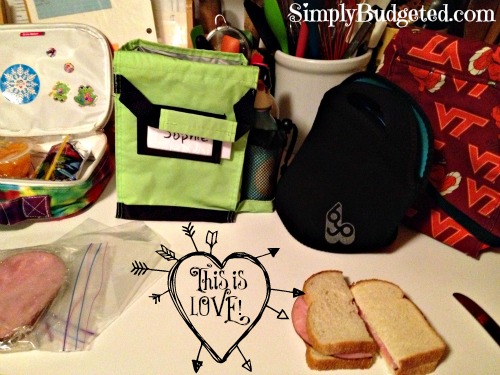 While this might seem like a boring topic, I share because lunchbox packing helps us stay on budget. It keeps us from eating out at lunch (me while at work, Brian while running errands) plus we make healthier choices for lunch this way too. It gives Grace a better balanced lunch than the school lunch.
So while I don't make Rachel over at Following in My Shoes' pretty bento lunches. I do make sure the kids have balanced meal plus the adults are eating healthy too.
Do pack a lunch to stay on budget or eat healthy? What design is your lunchbox? Leave me a comment and let me know!