My mom gave me an Amaryllis Indoor Growing Kit for Christmas. I don't know what she was thinking, sorry mom, I know you will read this. Plants in our house have a horrible record. I used to have about dozen house plants. Then got a cat that dug them up. I put rocks in them all. Then we had a kid (Grace) that decided to play in the dirt. The house plants didn't scream at me to water them or pay attention to them so they died. One day I will have plants again but I know that isn't yet.
So back to the Amaryllis Indoor Growing Kit, Sophie was determined to get a picture of the flower and send it to grandma. She kept saying "I promised Grandma a picture of our flower." Well, crap. I had to get it bloom. By some miracle  the Amaryllis did bloom! We forgot to take a picture for days. I thought I was doomed. One day I let Sophie take a picture on my phone so I could just text it to Grandma and we could be done with this obligation of trying to keep a flower alive for a picture. Here is Sophie's picture of the "pretty flower":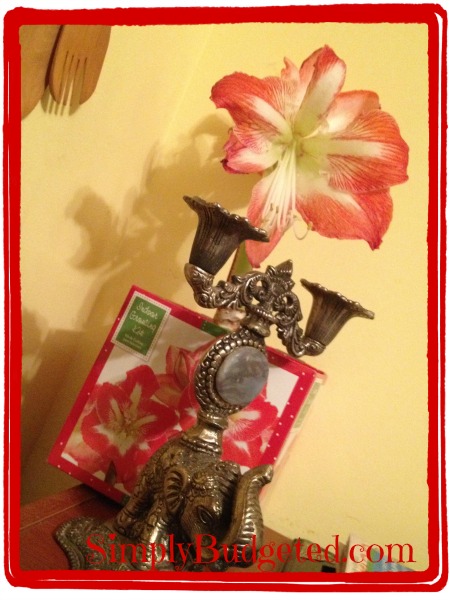 The picture was taken and the Amaryllis was ignored. Sadly it now looks like this: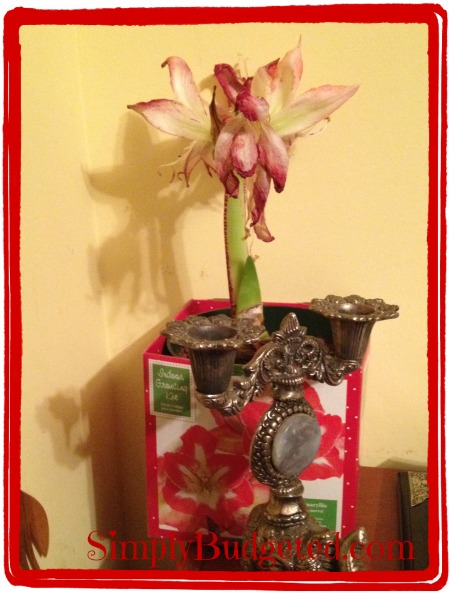 The box says it will bloom again in 5 years. Unless I figure out a plan to get the weeds out of my flower beds here soon, it doesn't have a chance. I don't know if it would like the weather here in Virginia. I know I could ignore it for five years but by then it will be long forgotten. Now what do I do with an already bloom amaryllis?
Do you have house plants? Do they get along with your kids and pets? Leave me a comment and let me know!