You might have caught a Facebook post back before Christmas noting that new KitchenAid Oven didn't come when the delivery people scheduled delivery. I was in full Christmas baking and preparation mode so it really adjusted my schedule for me! The oven did come the next day after Brian calmly explained that he did not pick that delivery date and but the we did a need oven by Saturday when he was hosting our first holiday event.
Here is our old oven … it was a good oven in that functioned. You see this oven was a hand-me-down oven from parents. They remodeled their kitchen maybe 5 years ago and gave us this oven. It was a huge improvement of the original oven to the house that would decide to turn off on its own. So any oven that actually stayed on when we turned on it was a blessing to us at that time!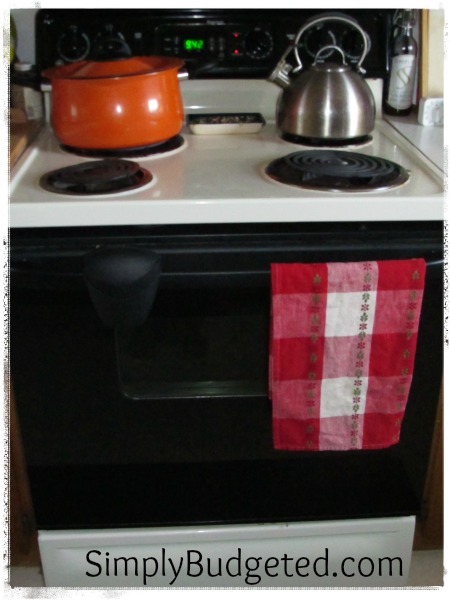 I don't even want to explain what was under that oven when Brian pulled it out. It was an embarrassment seeing that it had only been there 5 years and we had been here that whole time. (We couldn't even blame anyone else!) We did find a slew of missing magnets for whatever that was worth. The alphabet is more complete now … but still not all there. oh well! I did some major cleaning with the Seventh Generation cleaners and the space looked good but empty. This picture does show the new fan hood (Air King Under Cabinet Range Hood
) that I got for Brian on Amazon. It was a really good deal and it is nice to have a fan that actually works.
Want to see the new oven, well since Brian won it at the Mixed Conference that he went to thanks to The Fresh 20, he decided to share it. I guess I get to make the big announcement too! Brian has started a cooking/foodie blog! You can find him over at ThisCookinDad.com! Don't worry he will still be here on Simply Budgeted but he can get his food on over there. You can also find @ThisCookinDad on Twitter, ThisCookinDad on Facebook, and ThisCookinDad on Pinterest so be sure to follow in all of those places.
(Click the picture to see the new KitchenAid Oven!!)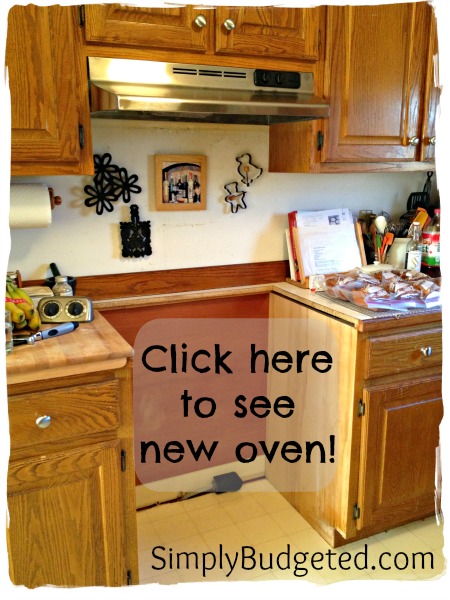 The first dish out the new oven was an apple pie. This pie was sooooo good! Darn January healthy eating makes me long for another one for sure!
Leave us a comment and let us know what you think about the new KitchenAid Oven.