It is hard to believe that it has been ten years since Brian and I said "I do!" That was our first marriage to each other. I had graduated college and Brian had decided he wasn't going to be career military so he was going to leave when his time commitment was up. I was planning a beautiful August wedding then it happened … war. We waited to see Brian would be called up and we thought we were safe as we made it past the early Afghanistan deployments.  Then we heard that we were getting ready to go to war with Iraq so we waited.
One day I got the call that I had been dreading for month. Brian was being deployed … and stop lossed (unable to leave active duty service.) I had been at my job for less than a year and had to go tell my boss that I needed time off to elope. I cried … in front of my boss as I explained I needed to take vacation time to go elope. You see we had decided when Brian proposed back in December 2001 that if he was ever deployed that we would elope so I would be the first contact for him. I then had to tell my parents that I was headed to Kentucky to elope. You try to make THAT phone call. What did my dad do though? He arranged to drive me out to Nashville (as far as Brian could from base, Ft. Campbell, KY) so I could bring back Brian's car. Mom mom took me to buy a sweater and a skirt that I would wear at our ceremony instead of the lovely white wedding dress we had already ordered. I don't even know how many times I cried. Me … a war bride? What did that even mean? War brides were in historical fictions novels I loved to read … not me.
Brian was able to get off a little early one day to take care of paperwork. That "paperwork" was eloping at the courthouse just over the state line in Clarksville, Tennessee. It was a strip plaza that had local government buildings in it. Brian had called and arranged for a local justice of peace to met us there. She was a sweet mid-aged lady … that is all that I can remember of her. We walked out with our rings on our fingers and a marriage certificate that looked like it had been printed on a ink jet printer. We were married. Just over a month later March 19, 2003, I officially became a war bride when the US invade Iraq. Me … a war bride? What did that even mean? I married a man and said good-bye as he went off to war … that was suddenly me. (If you are counting, our second marriage to each other was in July 2004 when we had a wonderful ceremony with family and friends … oh and I wore that beautiful white dress that I had ordered!)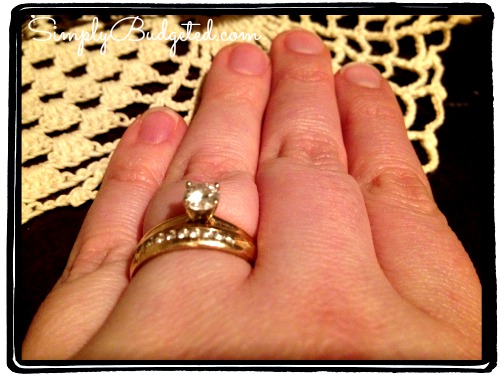 Ten years later … I have to say that I still feel lost in the identity of being a war bride but it is part of me. Me … a war bride? What did that even mean? Maybe in the next ten years, I will figure out more but I can tell you that the last ten years I have been given more blessings than a girl can ever dream to have.
Happy Anniversary to my husband … may we have more sets of 10 years to celebrate together!