We are excited to share a review of the BISSELL CleanView vacuum!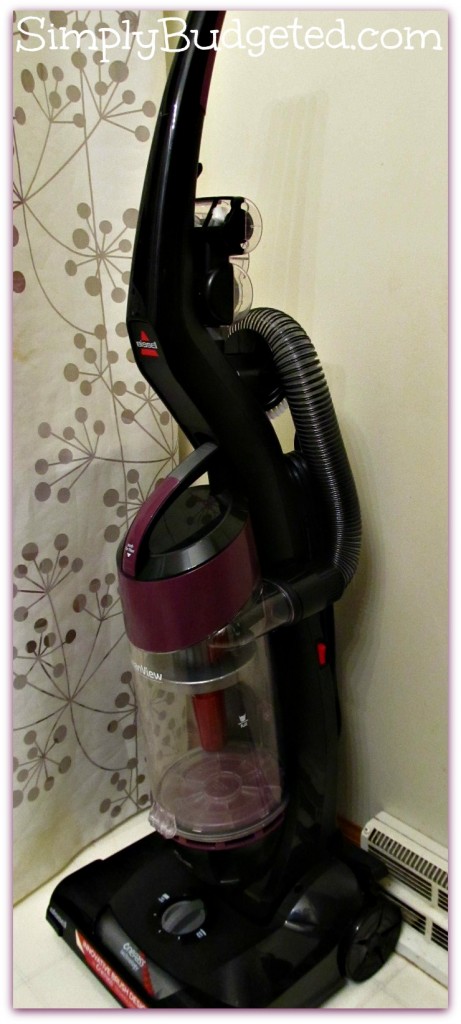 Sophie asked why the delivery man brought us another vacuum when this came. We have a cheap vacuum the preschool space used and I have a monster vacuum that weighs a small ton. They work so we still have them even though I really dislike them both. I have to say they might be finding new homes soon because the BISSELL CleanView is a wonderful vacuum for our house!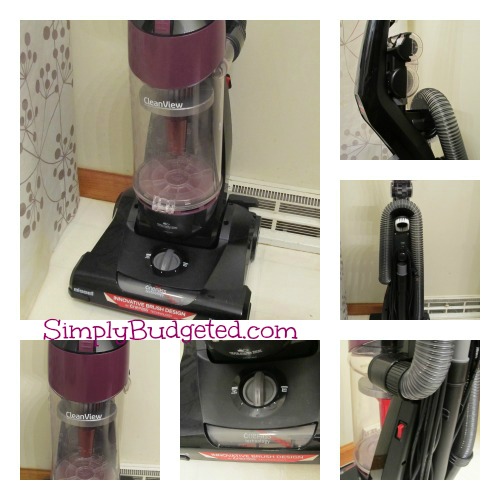 Want the technical details? Here they are …
–       OnePass Technology allows for fast and easy cleaning with powerful suction so you can spend less time vacuuming and more time enjoying family, friends and pets.

–       Innovative brush design cleans on initial pass* for excellent carpet cleaning.

–       Includes Bottom Easy Empty™ Dirt Cup for added convenience.

–       Lightweight design is modern, uncomplicated and easy to maneuver.

–       On-board attachments include a 4" TurboBrush® tool for cleaning stairs, upholstery and hard-to-reach places, a 10" crevice tool for nooks, crannies and corners and an upholstery tool and 11" extension wand for added convenience.
What does that mean for you? All the attachments are right there! You don't have to track them down or lose them! The cord is nice and long and managed to get all the way across our family room which is really impressive! You really do just need to go over an area once. I used to go over an area two to three times just to get up all of the crayon wrappers and whatever crumbs were on the floor! I actually went over some areas more than once to see if I could hear it sucking up more dirt (you know what I am talking about … go ahead, admit it!) and I couldn't!! I was so impressed. I will have to relearn how to vacuum and only go over an area once. The one major con to this vacuum is that the power switch is on the side. BISSELL needs to find a female engineer and add the power switch down near the floor so you can turn it on and off with your foot. The canister emptied out really easily and didn't fall apart going back together … I loved that. So here is a before and after with an admission of how dirty the 8′ x 10′ area rug in the living room is. (Yes, that is a rug … we have hardwood out there and it was too much for the kids so we have a very loud print rug!)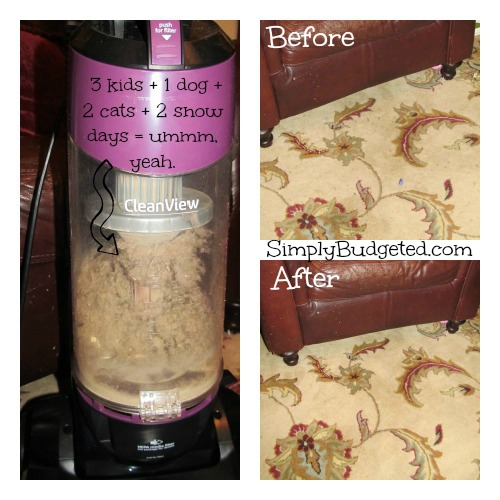 What do you think? Would the BISSELL CleanView vacuum help your cleaning efforts? Leave us a comment and let us know!
NOTE: I participated in a campaign on behalf of Mom Central Consulting for BISSELL. I received a product sample to help facilitate my review.