Today was a long day at our house. Maybe it was the switch to Daylight Savings Time? Maybe is Brian STILL being sick with bronchitis? Maybe it is me just being worn out. It was Meatless Monday day though. Thankfully we had planned for a lazy meatless Monday dinner. Part of the planning was that we needed ONE thing from the store for this dinner … the hummus. I made up two plates and let the kids eat in the living room … I was just too tired after work to do more than that today.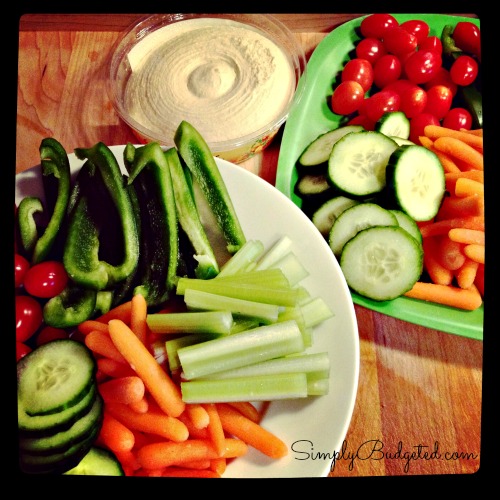 They ate up the plate of veggies. The kids ate more off their plate of veggies than we did. They did opt for the ranch dressing instead of the hummus but I am OK with that. They sat there and ate veggies for dinner. Just veggies … even little man!! This is a HUGE deal for him because just a few months ago, the only veggie he would eat was carrots and he would eat like two of them. We are excited that he is starting to eat more with us and expanding what he will eat with us. We are on the plan of just continuously offering the healthy food choices to him and he is picking them up.
In the middle of getting dinner together … OK, I only had to cut up the peppers, celery, and cucumber but I do get extra points for using the sharp knife and not cutting my fingers off … I realized that before I started dating Brian I had no idea what hummus was. It is now one of my favorite dips and I love to try different varities since they offer up such different flavors. I think I will have to write a post soon about the new foods that Brian has introduced me that I have come to love.
Would this dinner be a hit at your house? Do you enjoy hummus as much as I do? Leave me a comment and let me know!