Did you know graduation season is coming up? I am really excited about this year's graduation season … specifically the May 18th day because that is when I will officially graduate from Virginia Tech … for the second time. This time I will have completed my Master of Arts in Education degree in Curriculum and Instruction with an emphasis on Instructional Technology. whew! Did you catch all of that? yeah it is a lot of words for a degree that focuses in using technology for learning strategies .
For me this day in May comes after three years of hard work. You see, I think like an engineer not like a teacher. I don't write ten page papers … I write bulleted lists and one sentence testable requirements! This degree has been a bigger challenge than I could have ever imaged when I took it on three years ago! So after all of that time, some celebrating might be in order. Maybe a backyard BBQ? Maybe a little afternoon party that obviously includes kids activities in the yard? I really don't know but I do know that I have loved look at graduation announcements. Did you know that Tiny Prints  offers Graduation Invitations, Announcements and Gifts?
This is one of my favorites since I really don't need my thirty-something face plastered all over my graduation announcement! What do you think?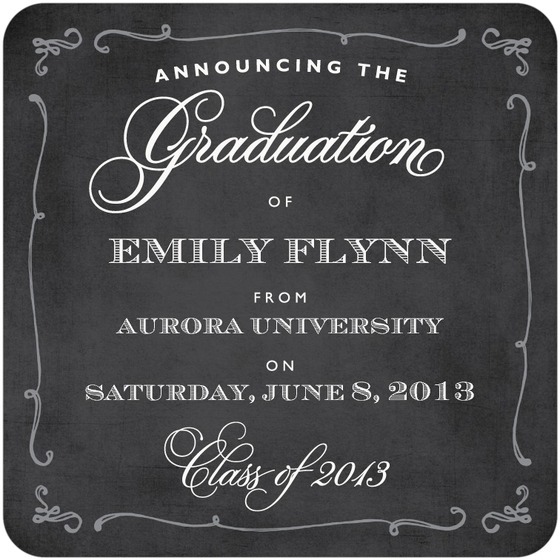 Remember that Tiny Prints Graduation Announcements and Invitations are quality you can feel! Oh and if you aren't the graduate, don't worry!