Last Friday my parents came out to watch Matthew so I could pull off Math and Science Night at Grace's school and Brian could participate with the girls. (More to come on Math and Science Night!)
I finally made it home for the first time that day at about 8:30pm. Dad was excited to tell me my graduation present was on the kitchen counter. I was puzzled and went to look … dad bought me this …
a Robo Fish and a Fish Bowl.
He told me it was for my desk. I set-up my fish in its bowl on my desk and learned that it is loud as it clicks on the sides of the glass bowl.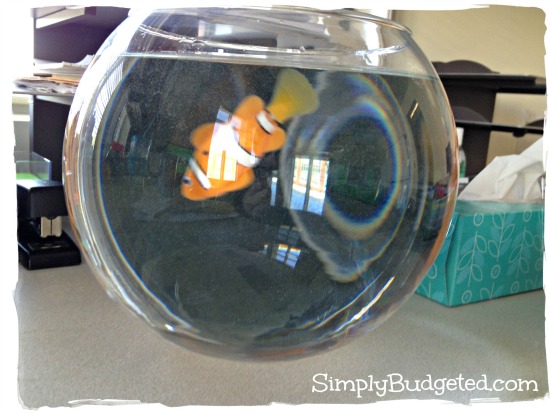 Robo Fish is loud. I took the fish out of the bowl and freaked out a co-worker who saw the Nemo fish sitting on my desk on napkin. oops! It is all good. He wants one for his kids now so it is all good!
Maybe the bowl needs a beta fish? I don't know that I want to take on another mouth to feed though.
Nemo fish will have to enjoy coming in and out of the water for now I guess.
Should I name Robo Fish something besides Nemo? Leave me a comment and let me know!