I will start off saying that Grace is my sister. We say that out of love but she is so my blonde sister that she has my sister's blonde hair! Grace would and does forget just about everything she takes to school at school at some point. She leaves lunch boxes, coats, snack bags, folders. You name it, she leaves it … just like my sister. Grace has a hot pink with panda bears raincoat. It is a great raincoat that still has lots of room it so it big on her. When she came home with a raincoat, I didn't think twice about it. I didn't think about until I found HER pink rain coat with panda bears on it in the raincoat box. For once she brought something home but wasn't even hers. I found out the next day it belonged to the neighbor down the street and she didn't put her kid's name in it! oops! So I had to sit down with Grace and explain that she not only needs to grab something that looks like her but she needs to look for her name label in her items. She did better after this and didn't bring home any other rogue raincoats!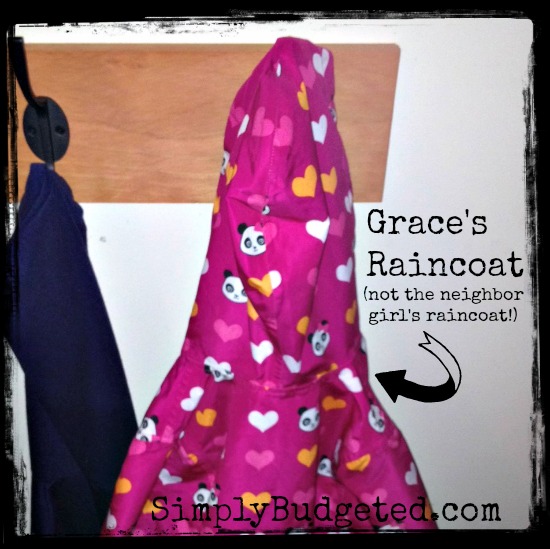 Here are some tips to avoid extra rain coats showing up at your house:
Put the same label with your child's name on it on all their items. Be consistent with the labels.

Use quality labels that won't fall off. You don't want to assume your child's items are labeled only to find the label fell off!

Challenge your kids to check for the label when they grab items to bring home at the end of the day.
Need labels to get ready for Back to School? Check out Bright Star Kids!
It's quick and easy to get labeling. Simply order online and with free shipping you'll have your labels in no time.
Stick-on labels are extremely durable, so they'll withstand the wear and tear of dishwashers. They're 100% waterproof and scratch resistant. They'll stick to most kinds of plastics and will stay stuck for years. When you're ready to remove them, simply peel off and no residue will be left behind.
Get organized for back to school with Bright Star's most popular School Labels kit, that has all the stick-on and iron-on labels you'll need for your kids belongings.
Ready to start labeling?
Put a label on it! Kick off the school year right and prevent unnecessary mishaps.
This is a sponsored conversation written by me on behalf of Bright Star Kids. The opinions and text are all mine.
This is a sponsored conversation written by me on behalf of Bright Star Kids.  The opinions and text are all mine.