A responsible homeowner does whatever they can to maintain the value of their home. Ideally, you want your house to be beautiful in appearance, structurally sound, energy efficient, and ideally increasing in value. One of the things that can quickly undermine a homeowner's desire for these things is a termite infestation. Remaining vigilant for the signs of a termite presence in your home is important.  Here are some warning signs to look out for.
Swarms of flying insects. Termite colonies looking for a new home take to the air in great swarms, shedding their wings once they've found a new habitat to sink their teeth into. Swarming behavior occurs most often in spring, but the discarded wings are a lingering warning sign of a termite presence in or near your home.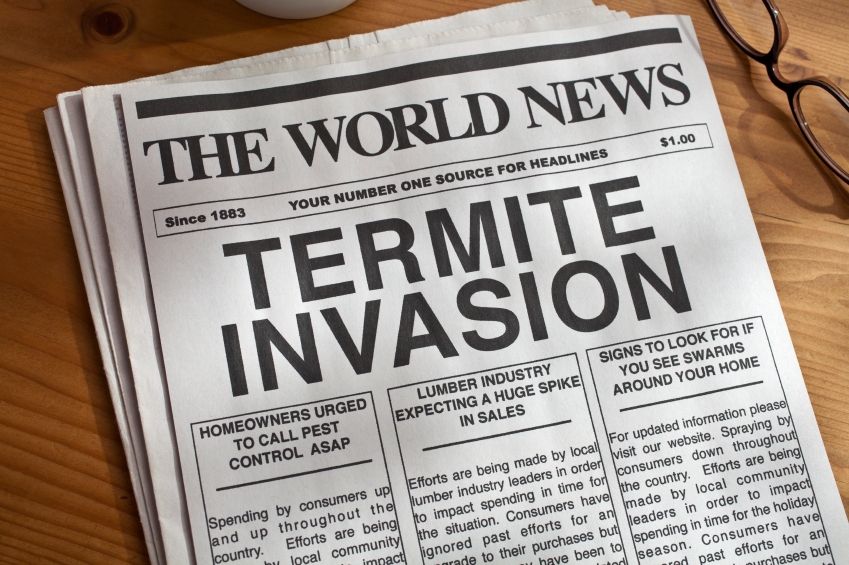 Termite droppings consist of a wood-colored sawdusty material called "frass".  Finding signs of frass near your home is another sign of termite presence.  Keeping your gutters, downspouts and other areas around your property clear of leaf litter and wood debris can help make your home undesirable for a termite swarm on the move.
Mud tubes on the exterior of your home can be another sign of termites ready to move into your home.  The tubes provide temporary shelter and hydration while the swarm attempts to create a new habitat within your walls or foundation. It's important to store wood chips, mulch, and firewood away from your home to prevent creating an oasis for termites on the move.
Cracked, bubbled paint, especially near windows or other openings to your home's interior can represent another warning sign. Termites can squeeze through improbably small gaps in your house's exterior, forming veinlike tunnels beneath the surface of the paint.
Hollow-sounding wood is another warning sign. If your home's wood structures have inexplicably hollow-sounding spots, it could mean that termites are eating the wood from the inside-out.
Fortunately a homeowner worried by any of these warning signs can quickly allay their fears with a no obligation termite inspection by Terminix. Having a professional inspect your home is the quickest way for a homeowner to find peace of mind from the fear of termite infestation.