Do remember my review of the BakeStack this summer? We are excited to now giveaway a BakeStack to get your cupboards organized for holiday baking.
What is the BakeStack?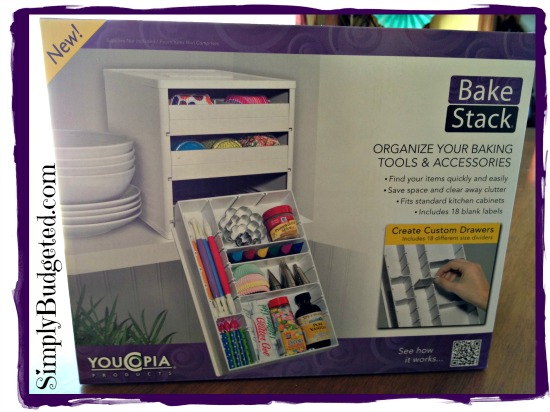 Details …
The BakeStack® is the only in-cabinet organizer for baking tools and accessories. Save valuable pantry and drawer space by storing sprinkles, icing, candles, cake tips, cookie cutters and more in three customizable drawers. The BakeStack includes 18 easy-fit drawer dividers that provide hundreds of possible drawer configurations. It's also great for organizing arts and crafts, scrapbooking, sewing and office supplies.
Store and organize your baking tools and accessories
Fits standard cabinets, measures 10.9"D x 8.1"W x 8.8"H (27,7 x 20,5 x 22,2 centimeters)
Includes 18 drawer dividers; 3 vertical, 6 small horizontal, 3 each medium, large and x-large horizontal
Includes 18 blank removable stickers for labeling the outside drawers
Multiple units can be stacked on top of each other
Non-skid feet hold unit securely in place
No assembly required but build customizable drawers as you wish
If you have a baking friend in your life, they would certainly love a BakeStack as a holiday gift this year. You can find the BakeStack on Amazon
for a great price of $29.99!!
My baking life has been so much easier with BakeStack. I have actually refrained from buying more cupcake liners knowing I have so many! It is hard to say no to their cuteness but I am using the ones I have. We have had need food dye and I know right where it is, my BakeStack is used all of the time and is still just as organized as it was in July!
Who in your life would  love a BakeStack? Take time to enter the giveaway for a chance to win one and then add it to their wish list for this holiday season so they have a gift of organization that gives time back to them all year long!