You when you get to bed and THEN you remember you didn't move your Elf on the Shelf? Yeah that was last night at our house. So I looked at Brian and said, "hey, you wanted to move the elf. He should be moved now not in the morning." He got out of bed and moved our dear Elf on the Shelf. I asked where Kingston was and Brian said on the etegere. (yeah, I totally had to ask Brian how to spell that!) Heck, I don't even say it right … add a southern draw and you get something close. I figured all was good. Then I see this …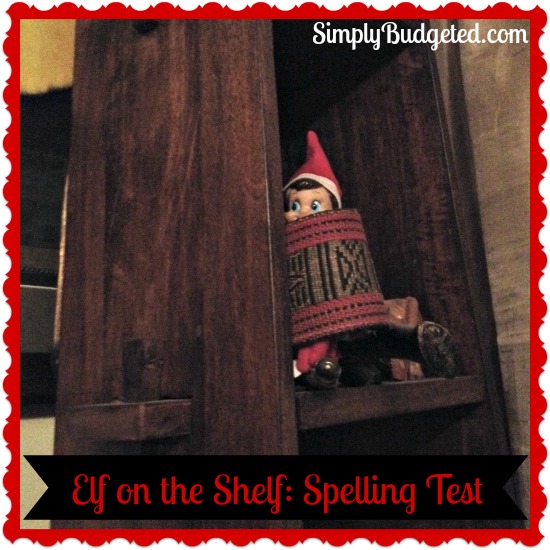 It might look innocent but I will confess what Kingston is hiding behind. It is a knife. It is actually a janbiya that Brian's dad gave him from his travels. What is a janbiya you ask?
Janbiya is generally used to describe a specific type of dagger with a short curved blade that is worn on a belt.
The part you see is the belt that holds the knife around your waist. It is completely appropriate for Brian to be the one to place Kingston here. Maybe not so appropriate if the kids knew what it actually was. They just said he is on the shelf … they are smart. They don't event try to say etegere! So today's Elf on the Shelf was a spelling test for you. Did you pass? I didn't!
At least we moved Kingston?! I will give Brian credit for that. I will also note that we put up our indoor Christmas decorations today. I did the porch decorations last night then it started to rain. It has rained all day. We are to get snow and ice on Sunday/Monday so I am guessing that maybe outdoor decorations will happen Tuesday or Wednesday? Maybe? So tomorrow Kingston will be associated with Christmas decorations … finally.
Oh and if you are reading this dear sis, this elf gig is still your fault. Now that your baby is almost here, you will have to deal with in about 2-3 Christmases! I will follow your move and MAIL you one so you can't not get it. I see how your tactics work!
How is the The Elf on the Shelf 
 going at your house? Follow along with Kingston this year with the Kingston 2013 tag here!