We participated in a review compensated campaign on behalf of CatsMeow.com with TGP Media Group campaign.
About Cat's Meow Village …
The Cat's Meow Village hand-creates wooden replicas of buildings and landmarks that you can hold in your hand and display in your home or office. Designs include historical landmarks across the US and world, items of local significance, whimsical, and special interest. Giving a gift with personal meaning is easy with Cat's Meow Village. Or build a collection of your favorite places that brings back memories every time you see them.

Faline Jones started Cat's Meow Village in the basement of her home in 1982 and has grown to a nationally recognized brand that offers collectible keepsakes. Whether it's a favorite vacation spot or the family home where our children are born, Cat's Meow Village helps us commemorate our lives and the places we've been that we hold dear in our memories and our world.
 Our Thoughts …
It has been awhile since I saw Cat's Meow Village pieces so I was excited to see the an opportunity with them. One of the first pieces I saw with them was their 2013 Charity! It is a cause close to our heart. This year's Cat's Meow Village 2013 Charity is Operation Christmas Child! With the purchase of each tree a $1 goes to Operation Christmas Child. Check our connection to Operation Christmas Child! We are excited to be getting this tree soon …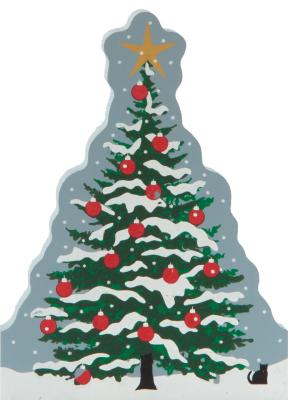 Brian loves Nativity scenes. So my second choice at Cat's Meow Village was an easy one too. I saw their Quilted Nativity Trio Boxed Set.

Details …
This boxed set includes all 3 pieces in the Quilted Nativity collection: Shepherds, Nativity Family, and Wise Men. Faline designed this collection for a Friends Of The Creche tour group that visited Cat's Meow October 2013. This group includes members from all over the world, and Faline wanted to create a nativity for them that represented something unique from her part of the world. She decided to incorporate quilt patterns into each design representing the Amish and Mennonite heritage that surrounds her.
From the holiday pieces to the college pieces to the local pieces, Cat's Meow Village is sure to have a piece that connects to you. What do you think that piece is?