Falafel is a great vegetarian staple from the Middle East.  I had my first falafel in Israel when I was 18 and I was hooked!  This is a variation on that classic using canned chickpeas and sneaking in some of those dreaded leafy greens in place of the classic parsley and cilantro.  This can be made as the burger shown or in the smaller ball form to be served in pita or on their own.
As a bonus:  our kids devoured these.  If you are having trouble getting your kids to eat greens, this is another great way to get the nutrition without the fight.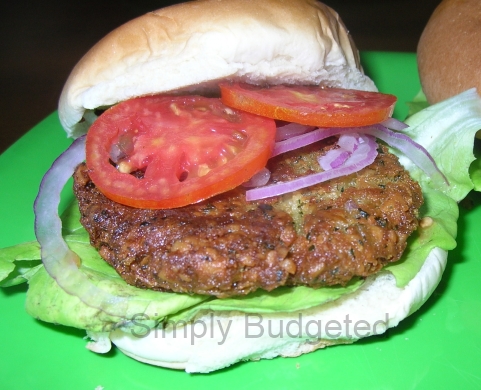 Kale-afel Burgers
Ingredients
1-15 oz can chickpeas, drained
1 small red onion, finely chopped
½ lb. kale, stems removed and finely chopped
2 garlic cloves or 1 t garlic powder
1 t cumin
Salt and pepper to taste
2 T flour
Oil for frying
Directions
Combine all ingredients except for oil into a large food processor.  Pulse until well blended and able to hold its shape.
Heat about 1 inch of oil in a heavy pan over medium to medium-high heat.  Form patties about ½-inch thick and 3 inches in diameter.  Carefully place patties into hot oil and cook about 3-5 minutes per side until brown and crispy.  Drain on a plate with paper towels.
Serve on bun with lettuce, tomato, red onion, and/or tehina or tzatziki sauce.
I hope that you enjoy these as much as we did.  Please leave a comment telling us how yours turned out.  If you make this and send us a picture, we can post it up here for all to see.  I can't wait to hear from all of you!